Chris Gethard talks mental health with fellow comedians for Mental Health Awareness Month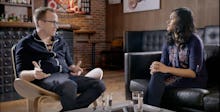 Depression, alcoholism and thoughts of suicide don't sound like a recipe for comedy, but comedian Chris Gethard's one-man, off-Broadway play Career Suicide has been praised for its intimate portrayal of these very serious issues (plus, it makes you laugh). The show will be making its way to HBO on May 6, which fittingly falls in line with Mental Health Awareness Month. 
In an exclusive provided to Mic ahead of Career Suicide's HBO premiere, Gethard sits down with fellow comedians Patti Harrison, Aparna Nancherla, Phoebe Robinson and Wyatt Cenac to talk about their own struggle with mental health and how it's shaped them. Gethard takes a backseat here, moderating the conversation and allowing his peers to share their perspectives. "I wanted to make sure that, since I have this platform, it wasn't just my voice," he opens. "I wanted to talk to people from other walks of life." 
Cenac discussed how he processed his father being killed when he was a kid, while Nancherla talked about the struggles of opening up about depression with her family. "We were open about things, but I don't think mental health was really on the table in terms of like, 'How are you really feeling?'" Nancherla explained. "Once it sort of came out as depression, I learned my mom struggled with mental health, and it kind of runs in my family." 
Harrison, a transgender comedian, talked about navigating her identity and the struggles that came with it. She candidly tells Gethard that she tried to commit suicide, which a staggering 41% of trans people have attempted in the United States, according to the American Foundation for Suicide Prevention. "When I came out, it was very terrifying," she tells him. "I really thought I was going to lose a lot of people, but my family celebrated it." 
"I'm glad that we're entering a social moment where trans people and gender-nonconforming people and queer people can speak for themselves," Harrison adds. 
You can watch Gethard's conversation with Harrison, Nancherla, Robinson and Cenac below. HBO is also providing a list of resources for those struggling with depression, substance abuse or suicidal thoughts — including the National Suicide Prevention Lifeline — on the comedy special's homepage, which you can access here. 
Career Suicide premieres May 6 at 10 p.m. Eastern on HBO.