Climate March 2017: Here's what it is and what you need to know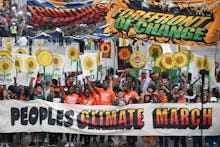 On Saturday, thousands around the country stood up for science at marches around the country. Just one week later, those who care about science and climate change will now have an opportunity to march once again.
The 2017 People's Climate March will take place on Saturday in Washington, calling on those worried about the devastating effects of global warming to stand up and be counted. The march is a follow-up event to the 2014 People's Climate March in New York City, which coincided with the United Nations Climate Summit and drew hundreds of thousands of attendees.
Here's what to know about Saturday's march.
Why they're marching
The Climate March, the organizers note on the march's website, is taking place to "show the world and our leaders that we will resist attacks on our people, our communities and our planet."
We will come together from across the United States to strengthen our movement. We will demonstrate our power and resistance at the gates of the White House. We will bring our solutions to the climate crisis, the problems that affect our communities and the threats to peace to our leaders in Congress to demand action.
More specifically, the organizers have laid out a nine-point platform to outline their goals. These goals include "directly and rapidly reduc[ing] greenhouse gas and toxic pollution," "mandat[ing] a transition to an equitable and sustainable new economy and economic future," making "bold investments" in areas directly threatened by climate change and demanding a $15-per-hour minimum wage.
Climate March: Where and when
The main April 29 march in Washington will start in front of the U.S. Capitol Building. Demonstrators will march down Pennsylvania Avenue to the White House and surround its perimeter, before eventually ending in front of the Washington Monument.
The activities will begin at 11:00 a.m. Eastern when protesters will start lining up in front of the Capitol building and prepare to march. The march will then officially kick off at 12:30 p.m. and make its way to the White House by 2:00 p.m., where protesters, the website notes, will "take powerful collective action to honor the lives at stake and make a loud sound demanding climate justice and good jobs that will drown out all of the climate-denying nonsense that has been coming out of this administration."
By 3:00, the march will conclude with activities in front of the Washington Monument, where participants can "connect and share" stories and solutions about climate change. The march is expected to be completely over by 5:00 p.m.
For the march, the organizers are asking protesters to line up in a series of eight "blocs" of different factions opposing climate change. These include "Protectors of Justice," including indigenous people and those on the front lines of climate change; "Creators of Sanctuary," including women, immigrants and the LGBTQ community; "Guardians of the Future," namely students, children and their parents; and "Defenders of Truth," which include scientists, educators and the health community. 
Those who aren't sure where to line up are asked to head to the corner of Third Street and Jefferson Dr. SW, the organizers note. 
For climate change protesters who can't make it to Washington, there will also be a number of "sister marches" for climate change taking place around the country. A complete listing of these nationwide marches can be found on the People's Climate website.