'Overwatch' 2.11 Patch Notes: New competitive tiebreaking rules, various bug fixes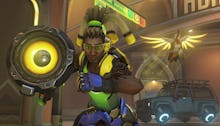 Those awkward, 10-second long tiebreaking rounds in competitive Overwatch matches should officially be a thing of the past, thanks to the newest patch — version 2.11 — that hit PC, PS4 and Xbox One on Thursday.
The newest update also introduced a number of bug fixes and relatively minor updates. Most importantly, it fixed a bug "causing Soldier: 76's cape to clip during the Push-Ups emote when his Strike Commander Morrison, Daredevil: 76, or Stunt Rider: 76 skin was equipped." Thank goodness.
We've got the full patch notes for Overwatch update 2.11 embedded below.
Overwatch version 2.11 patch notes
GENERAL
More Overwatch news and updates
For more on Overwatch, check out the rest of what Mic has to offer. Here is our Project Runway-style judging of every new Uprising skin, an unintentionally hilarious infographic showing the most popular Overwatch characters in each state, our definitive ranking of every Overwatch hero and a giant Overwatch FAQ for beginners.