Donald Trump has a Coke button in the Oval Office because of course he does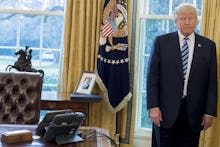 Like you, President Donald Trump gets thirsty. Unlike you, Trump has a red button in the Oval Office he can press anytime he wants to quench his thirst with a delicious and refreshing Coca-Cola.
While speaking with Reuters about a possible "major, major conflict" with North Korea, Trump apparently got a parched and decided he needed a soda. Here's how Reuters described the scene in the interview published Friday:
Trump, sipping a Coke delivered by an aide after the president ordered it by pressing a button on his desk, rebuffed an overture from Taiwan President Tsai Ing-wen, who told Reuters a direct phone call with Trump could take place again after their first conversation in early December angered Beijing.
The Coke button also made an appearance in an Associated Press story about Trump's first 100 days and in an instant-classic opening of a Financial Times piece this week.
"This isn't the nuclear button, is it?" reporter Demetri Sevastopulo asked Trump, pointing at the red button.
"No, no, everyone thinks it is," Trump told Sevastopulo, ordering them up some Cokes. "Everyone does get a little nervous when I press that button."
Trump hasn't always enjoyed the "Coke Side of Life." In 2012 — for some reason — Trump railed against the beverage company, tweeting that he had "never seen a thin person drinking Diet Coke."
But Trump vowed it wouldn't stop him from "drinking that garbage."
All these years later, he's kept his word.