iPhone 8 Vertical Camera: Leaked case suggests a new look for the dual lens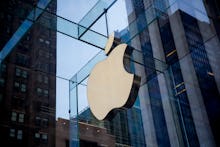 There are a lot of different ways to get iPhone 8 rumors: actual leaks, speculated roundups and even concept mockups. Now you can add phone case designs to the list. A new leak from KK Sneak Leaks, spotted by 9to5Mac, showcases a clear case. Seems pretty boring, right?
Except the supposed case hints at a few rumored design changes coming to the premium device. The camera cutout, for example, suggests there will be a vertical dual lens camera. This echoes the iPhone mockup created by YouTube channel Concepts Creator, which features a vertical dual-lens camera.
A vertically aligned dual-lens camera could potentially improve picture quality. The iPhone 7 Plus has a horizontally placed dual-lens camera.
The case design is noticeably missing a cutout in the rear for the rumored Touch ID sensor, suggesting that the tech giant won't be placing a sensor in the back of the device. While it was initially reported that Apple would integrate the home button in the display, most recent reports suggest there have been a few hiccups.
Earlier this month, it was reported that Apple would delay the iPhone 8 launch, as the company was struggling to integrate a sensor within the device's display. In the aftermath of the news, a Twitter leak showed a product design that placed the Touch ID sensor on the back of the device — like the recently released Samsung Galaxy S8 — underneath the Apple logo.
The iPhone 8 is believed to be the same size as the iPhone 7 with an edge-to-edge 5.8-inch OLED display that will be bezel-less. It is also rumored to feature wireless charging, a front-facing dual lens camera, a new smaller A11 chip, extended battery life, improved water resistance and a 3-D sensing system to support augmented-reality technology — or "some form of facial/gesture recognition."