'Overwatch' D.Va Bug: D.Va disabled, enabled again for game-breaking crashes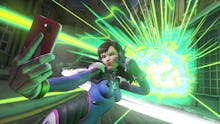 It looks like Blizzard accidentally gave D.Va a new ability when it released Overwatch update 2.11: The power to make the entire game crash.
On Thursday evening, Blizzard had to temporarily block players from playing D.Va while it addressed a game-breaking bug. Luckily, Blizzard managed to identify the problem pretty quickly and enabled her again a few hours later.
Here's what happened.
Overwatch D.Va bug caused the entire game to crash
Late Thursday night, the Blizzard customer service Twitter account announced it had temporarily disabled D.Va to a mysterious "bug currently under investigation." To entirely disable a character is a pretty big deal, so the Overwatch community was curious about what the problem was.
A short time later, Overwatch community manager Lylirra posted on the Overwatch forums that D.Va's presence had been causing the entire game to crash.
"Following the release of today's 1.10.1 patch, we've seen a significant rise in the number of reported client crashes," Lylirra wrote. "Based on our investigation, we've determined these crashes are very likely connected to D.Va's presence within a game."
Some players on Reddit were reporting other strange game behaviors, too.
"I had a match where de-meching a D.va caused the match to restart at a new location," SpartanIord wrote on /r/Overwatch. 
"I was playing D.Va [on] Route 66, and when the round ended we started a new game in Ilios," Volio wrote. "Sorry guys."
Luckily, a few hours later, Blizzard customer service tweeted that the problem had been resolved.
Whoops.
More Overwatch news and updates
For more on Overwatch, check out the rest of what Mic has to offer. Here is our Project Runway-style judging of every new Uprising skin, an unintentionally hilarious infographic showing the most popular Overwatch characters in each state, our definitive ranking of every Overwatch hero and a giant Overwatch FAQ for beginners.