Mary J. Blige 'Strength of a Woman' track list: 5 songs that reflect on her divorce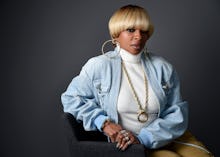 The queen of hip-hop soul will not let her crown be tarnished. On her 13th studio album Strength of a Woman, Mary J. Blige is vulnerable and direct about the pain she's experiencing due to her divorce from her estranged husband and former manager Martin "Kendu" Isaacs. 
"Now I'm saying I'm a little pissed right now and hurt and all of that, but there's light at the end of the tunnel," Blige said of the album on the Angie Martinez Show in March. "But I'm human and this is hard and this is a lot to deal with. So this album just embodies what I'm dealing with," she continued.
The former couple married in December 2003. Blige filed for divorce last July. Isaacs is demanding $129,319 per month in spousal support from her, money Blige said he doesn't deserve.
Blige has been singing openly about the highs and lows of her relationships since her debut album Whats the 411? almost 25 years ago. But with heartbreak this time around, the singer is strong in her self-worth. Even in her current situation, she remembers that she is deserving of love and a life that's greater than what she's currently facing. 
Strength of a Woman is a follow-up to 2014's The London Sessions. Blige made her way across the pond to work with singer-songwriter Sam Smith and Disclosure, to name a few, to bring the project to life. The record took on the U.K. sound, with loungey deep soul and upbeat house music rhythms. On Strength of Woman, Blige returns to her hip-hop soul roots bringing along Kanye West, Missy Elliott and newbies Quavo of Migos and Kaytranada for her healing opus. Take a look at the top five tracks from Blige's latest. Find streaming options for the album here.
On the horn-driven "Set Me Free," Blige does not hold back on her truth. On the soulful number, Blige appears to send a direct message to her estranged husband about his requests for thousands of dollars from her. 
And how you fix your mouth to say I owe you
The trap soul "Glow Up" is a hip-hop all-star track as it features DJ Khaled, Missy Elliott and Quavo from Migos. The singer assured her fans that nothing was going to stop her from leaving behind her failed marriage. 
"I'd be mad too if I lost a real dime ass woman (dime ass woman)," she sings with confidence.
On "U + Me (Love Lesson)," Blige reflects on what she's learned about love from the divorce. Over the tight groove, she sings about the disappointment she felt in realizing the love she thought she had was not real. 
"At times, I wanted to leave, but didn't wanna be lonely/ Can't deny the fact you were my one and only."
On this track, Blige goes up against naysayers questioning her career in the midst of her going through her current heartbreak. Even with the blows, Blige still appears to put her trust and strength into her spirituality and her fans. 
They keep telling me, "Mary, it's over"
On the jittery bop "Telling the Truth," produced by Badbadnotgood and Kaytranada, Blige sings about a relationship she left behind. Her former love is attempting to get back with her and also continues to deny the hurtful actions that led her to leave him in the first place. 
"Ooh, baby, you're not telling the truth/ After all that I done for you/ Still tryna play me for a fool," she sings.
Mic has ongoing Mary J. Blige coverage. Please follow our main Mary J. Blige hub here.