Mic raises $21 million in Series C funding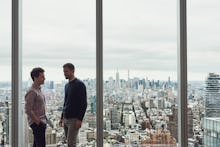 Led by Lightspeed Venture Partners with strategic investments from Time Warner Investments, kyu Collective, You & Mr. Jones to fuel growth in nine new channels and video offerings
New York, NY — April 7, 2017 — Mic has raised $21 million in a Series C round of funding led by Lightspeed Venture Partners, with new strategic investments from Time Warner Investments, kyu Collective and You & Mr. Jones. This brings the company's total funding to $52 million.
Mic is using the funding to expand upon its new channels: Navigating Trump's America (politics), The Movement (social justice), Payoff (personal finance), Slay (feminism), Hype (entertainment), The Future Is Now (technology), Strut (beauty), Out of Office (food and travel), Multiplayer (gaming) and its core focus, news. The company will also aggressively expand its premium video offerings for live and SVOD distributors, building upon the Emmy-nominated success of its news documentary show, Clarify, and live video coverage of events like the Standing Rock protests and the Women's March.
Mic's modern journalism is powered by diverse perspectives, connecting deeply with audiences on issues they are impassioned about. Over the last year, Mic has increased its audience sixfold, with video accounting for more than 75% of daily views. Over 66 million unique people read or watch Mic over 400 million times each month across platforms. The company has tripled its revenue year over year, producing award-winning campaigns with some of the world's most innovative advertisers.
"Becoming the defining news brand of our generation is an enormous opportunity," said Mic CEO and co-founder Chris Altchek. "We are excited to continue to hone our modern approach to journalism and become the leading news source for every young consumer in America."
"News is a killer app on TV, and it will be a killer app for this new TVOS landscape," said partner Jeremy Liew of Lightspeed Venture Partners. "Mic already reaches two-thirds of millennials in the U.S. each month. That, combined with its credibility, positions Mic to win on TVOS, just as it has on social. We're excited to double down on this investment." Lightspeed led Mic's Series B round of funding in June 2015.
Time Warner Investment's ?Group managing director and senior vice president, Allison Goldberg, will join Mic's board of directors. "As a leader in news, Time Warner Investments has been very impressed with Mic's high-quality video journalism. Mic's voice is resonating with a large next-generation audience, quickly becoming their go-to news source across platforms," she commented.
Michael Birkin, CEO of kyu Collective said, "Mic has developed a very powerful approach to partnering with brands on meaningful content projects, which aligns with kyu's purpose to be a source of creativity which propels society and the economy forward."
"Mic is at the forefront of the revolution happening in marketing technology. They combine an unrivaled audience amongst millennials, with powerful storytelling and high-quality scalable digital content. We're excited to be part of the journey," added David Jones, CEO of You & Mr. Jones.
Mic is headquartered in New York with teams in San Francisco, Los Angeles, Chicago, Toronto, Kiev, Stockholm and Berlin.