Why were so many media outlets promoting Fyre Festival with gushing fluff pieces?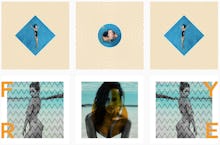 Fyre Festival — a Ja Rule-backed music fest in the Bahamas that billed itself as "a cultural moment created from a blend of music, art, and food" — turned out to be a chaotic mess of poor planning, shoddy construction and plain cheese sandwiches. 
Guests who arrived on Thursday rushed to leave by Friday morning — and it was clear to everyone that festival organizers had no idea what they were doing. All of this begs the question: Why, in the weeks and months leading up to the festival, did Fyre Festival get so much free, laudatory publicity in glossy magazines? 
Everyone from Vogue to Elle to W Magazine published pieces that name-dropped Fyre Festival and the Instagram "influencers" who planned on attending, building up the as-yet-unproven event as an idyllic, carefree beach party; a perfectly crafted, Instagram-ready event.
That was the image that festival-goers were buying into when they shelled out hundreds, in some cases thousands, of dollars for the lifestyle event that turned out to be somewhat of a hellscape.
In December, Vogue published a piece about a photoshoot featuring models Bella Hadid, Elsa Hosk, Emily Ratajkowski, Lais Ribeiro, Rose Bertram, and Gisele Oliveira, all of whom were, according to Vanity Fair, influencers chosen by festival organizers to "inflate the Fyre name." 
The models where in the Bahamas "for the Fyre Festival, which turned out to be the perfect opportunity to break out their bikinis and show off the latest in swimwear," Vogue wrote in December. 
Elle wrote about the same Fyre Festival photoshoot in December — and included even more information about Fyre Festival, including a link to purchase tickets.
The models were invited to the islands to give feedback for the launch of Fyre Festival, a new immersive music festival launching in Spring 2017 and happening over two weekends. Activities include yoga on the beach, water trampolines, seabobbing, along with music (artists to be announced), art, food, and–wait for it–$1 million of real treasure and jewels hidden around the island. Tickets go from $950 - $3,595 and are on sale now.
It turns out, of course, that Fyre Festival activities actually included searching in vain for your luggage and waiting in line for a flight home.
But outlets were apparently blinded by the flashy promises of promotional materials for the festival — and the big names attached. 
In January, People published a story about Kendall Jenner's Instagram announcement of the festival and said that, "according to a press release, Fyre Festival aims to bring together the greatest minds in music, art and cuisine, and festival goers will also be able to enjoy a variety of island activities like jet skiing and snorkeling."
Teen Vogue also covered Jenner's announcement, and even gave out her promo code in case readers wanted to use it to purchase festival tickets and get access to an exclusive afterparty.
These pieces, which straddled the line between coverage and free advertising for the festival, show some of the dangers of taking sponsored content at face value.