'Hey! Pikmin' takes Olimar's little friends 2D on the 3DS in July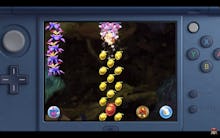 Captain Olimar has been pretty silent since Pikmin 3 was released in 2013. But there's good news: As part of their April 12 Nintendo Direct conference, Nintendo announced that Hey! Pikmin will be coming out on July 28 for the Nintendo 3DS, alongside a new Amiibo.
Hey! Pikmin: New 3DS game marks the series' first foray into 2D side scrolling
Although the Nintendo Direct video didn't show much gameplay, we got enough of a glimpse to give you the scoop. It's a 2D side scroller, but it appears to keep the bones of previous Pikmin games intact. You still control a horde of small plantlike aliens called Pikmin to help you pick up mundane objects and treasure that you can use to refuel your ship. 
According to the footage, Captain Olimar and his loyal Pikmin will still fight enemies and solve puzzles, but we won't know for sure until we get more information about the game prior to release.
Perhaps most exciting, especially to fans of Amiibos, is that the release of the game on July 28 will coincide with the release of a new Pikmin Amiibo. 
The Amiibo's function appears to allow you to "call in backup Pikmin," but there isn't much additional information about what that actually means. We'll probably be waiting for some more information at least until E3 2017 in June, according to Polygon, but at least now you can mark your calendars.
Hey! Pikmin will be released for the Nintendo 3DS on July 28, 2017.
Check out more Nintendo news and coverage
Looking for more Nintendo Switch news? Check out how blind gamers are using the Nintendo Switch. Nintendo's left Joy-Con issue turns out to be a hardware problem — here's how to solve it. Find out how to buy a console amid the recent restock. Learn why the Switch cartridges taste so bad. Check out our comparison photos sizing up the Switch to the Wii U GamePad (part one and part two), or find out how to make use of ethernet without the dock and the best way to get alerts when new stock arrives.