'American Ninja Warrior' star Jessie Graff teases 'Team Ninja Warrior' run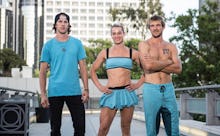 Fans of American Ninja Warrior know the name Jessie Graff quite well. In season 8 of the physically demanding competition, Graff became the first female competitor — and one of only 17 overall that year — to complete stage one at the national finals. And she made it look easy (it's not). 
Unfortunately, Graff failed to conquer the brutal second stage, which eliminated all but two competitors — Drew Drechsel and Daniel Gil. Still, despite falling short of finishing stage two last season, it seems like it may just be a matter of time before Graff adds that to her list of American Ninja Warrior accomplishments. 
Before Graff gets a chance at American Ninja Warrior redemption, however, she will compete as part of team G-Force in the far less stressful, but no less fun, Team Ninja Warrior, which is currently airing its second season on the USA Network. Graff, along with teammates Nick Coolridge and Jesse LaFlair, will have their Team Ninja Warrior qualifying run air on May 2 at 10 p.m. Eastern. 
In anticipation of G-Force's Team Ninja Warrior qualifying run, Mic caught up with Graff (via email) to discuss the differences between the team and solo competition, as well as how fans have reacted to her historic stage one performance. Check out the full exchange below: 
Mic: Is your mindset (training, motivation, preparation etc.) any different when it comes to the Team Ninja Warrior competition, as compared to American Ninja Warrior?
Jessie Graff: They're completely different sports. For American Ninja Warrior, I'm training as efficiently as I can to triple my grip strength and pull-up power so that someday I'll be strong enough to complete all four stages. I'm already strong enough to complete everything on the Team Ninja courses. It's about pushing the limits of how fast I can do them, without falling. 
Do you prefer approaching the course as a solo competitor or as part of a team?
JG: Competing on Team Ninja is a more fun, relaxed environment. There's less pressure and more freedom to attempt huge moves to cut time. It's higher energy, more adrenaline, more chances to try the course. But to me, the most inspiring thing about training obstacles is the borderline impossible challenges of American Ninja Warrior.  
You often wear costumes that are inspired by popular superheroes. Did you come up with any new costumes for Team Ninja Warrior? 
JG: My outfit is consistent with my typical look, but with a color scheme that worked for the individual styles of everyone on the team. We each had a piece custom made from Pi Movement with matching fabric. (You can get your own superskort or ninja pants from their website.)
Can you recall a particular interaction you had with a fan since your historic run last season? What did they say?
JG: There was a 12-year-old girl who told me that she loved swimming and gymnastics, but had stopped doing them because she was afraid her friends would make fun of her for being muscular. But now she sees strength as beautiful and has gained the confidence to do what she loves, regardless of what other people think. I was so proud, I cried. It's such an honor to get to share the joy of getting healthier, stronger and more capable.
Any advice for aspiring ninjas? 
JG: If you already know you're in love with ninja training, [then] parkour, sprints, rock climbing, trampolines, trapeze and martial arts/footwork drills are some of your best bets. There are so many different ways to prepare for Ninja Warrior, but I think the most important part is that you love what you're doing, so you stay inspired to work hard. 
Season two of Team Ninja Warrior airs Tuesdays at 10 p.m. Eastern on USA. The competition is hosted by Matt Iseman and Akbar Gbajabiamila. 
Mic has ongoing coverage of USA television series. Please follow our main USA Network hub here.