Mic names Jonathan Carson as president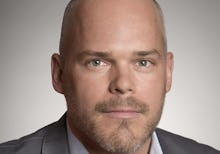 Former CEO of Nielsen Digital and CRO of Vevo will join to help scale native advertising, expand premium video production and distribution
Jonathan Carson joins Mic as president, where he will be responsible for management and growth of all facets of the business, including sales, marketing, business development, branded content, finance and operations. With Jonathan in this new role, Mic will focus on brand integrations across Mic's network of channels, partnerships with video distributors and new business development.
Carson will report to CEO and co-founder Chris Altchek. He joins Mic's executive team alongside publisher Cory Haik, who leads the editorial, audience and platform teams.
Carson brings 20 years of experience in digital media, with successes as an entrepreneur and executive in large companies. Most recently, Carson was the chief revenue officer of Vevo, one of the world's largest music properties and YouTube's largest content partner. In this role he oversaw Vevo's global sales and marketing functions during a period of large-scale growth. Prior to that, Carson spent six years with the Nielsen Company, where he helped spearhead the company's digital transformation as Global CEO, Digital. He joined Nielsen in 2007 when it acquired his company, BuzzMetrics, the first major player in the field of social media analytics. Carson was co-founder and CEO of BuzzMetrics.
"Trusted news is more important than ever, for both advertisers and platforms, and Jonathan's joining us is a great validation for Mic," said Mic CEO and co-founder, Chris Altchek. "Jonathan shaped how marketers buy video at Nielsen and Vevo, and his experience will help Mic extend our industry-leading success with brands and distribution platforms. I'm so excited to welcome him to the team and continue building the defining news brand for our generation."
"I am so impressed with Mic. With outsized reach and influence with millennials, Mic is positioned to redefine the news category. Mic's smart, forward-thinking voice and video-first journalism make it a compelling partner for both brands and platforms. I am thrilled to join this team and work hand-in-hand with Chris and Cory," Carson added.
Carson will begin at Mic on April 17 in New York.