Mic expands with nine channels, a redesign and names Cory Haik publisher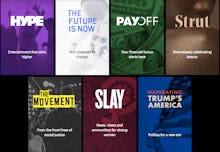 March 30, 2017, New York, NY – Mic launches nine new 360-degree channels, expanding its modern approach to mission-driven journalism and distribution. In addition, Cory Haik is promoted to publisher, overseeing all of editorial and product.
Over the past year, Mic has grown 6 times over, with 66 million unique individuals now reading or watching Mic each month through its diverse and inclusive storytelling. The new channels were developed social-first, after deep immersion in the platforms where audiences are most engaged, and have high growth potential. Seven channels fully roll out today, many of them already thriving across Facebook and Instagram.
"Mic's nine new channels will further our mission of delivering important stories from modern and diverse perspectives," Mic CEO Chris Altchek notes. "As publisher, Cory unites a traditional responsibility to publish journalism with modern storytelling products across platforms."
"We know that the new journalism cannot be done in a vacuum. It is powered by our audience's passion points, and we've built our new channels around them, with new voices, visual formats and areas of focus," Haik shared in a post [link TK] on Mic. "We reject the idea that professional journalism held to the highest standards can't be delivered in modern forms that meet people where and how they live."
Each channel has a focused editorial mission delivered through multiple media formats (video, images, articles and more) that updates consistently across platforms, with more features and personalization to come.
New 360-degree channels
Mic's flagship channel will continue to be primarily focused on news that is nimble and responsive, through the lens of a hyper-engaged, multiplatform news consumer. Mic is proud to launch the following channels:
Navigating Trump's America is Mic's politics channel with a singular focus: helping Mic readers understand today's political moment. From comprehensive explainers to careful reporting and on-the-ground coverage, we provide a complete picture of what's happening for a hyper-engaged, politically astute reader.
Slay covers the most pressing issues impacting young women's lives. We celebrate successful women while analyzing the distinct challenges women face today. From the gender pay gap and political representation to navigating a Snapchat-driven, Tinder-fueled culture, the Slay breaks it all down through personal essays, nuanced investigations and everything in between.
Hype is obsessed with the best of pop culture — TV, film, music, videos, books and emerging media — with an eye toward what's new and relevant to a generation of conscientious media consumers. We cast a discerning eye to not just what should be better, but how it can be better.
Payoff is a personal finance channel for people facing life's first big financial decisions: How do I handle student debt? When should I buy a house? How can I afford to have a kid? It offers strategies on how to traverse unique issues like Venmo debt and Uber stipends vs. car purchases, all of which are distinct to a new generation.
Strut strives to empower and embolden its readers by embracing an inclusive new understanding of personal style. We highlight people who champion diverse body shapes, sizes and colors. We challenge common beauty standards and showcase the journeys of people who have overcome their own insecurities to strut with confidence and joy.
The Movement documents the most vibrant social issues and activism of our time. We go inside the protests to understand the ideas fueling them, and we go beyond them to learn about the issues people are passionate about. We talk to the communities most impacted and embed ourselves in the movements at the forefront of these changes to America and around the globe.
The Future Is Now is the ultimate guide to consumer tech, social media and the latest scientific breakthroughs for the cord-cutting generation. Our aim is to shift tech culture and start a new conversation for a highly engaged, highly diverse audience.
Out of Office, launching soon, is for the purposeful traveler and food adventurer who recognizes the importance of a clean break from the daily grind. We'll take our audience to new places, create itineraries for locations you shouldn't miss and guide you to dishes worth going far out of your way to try.
Multiplayer, launching soon, is the ultimate strategy guide to the new world of gaming. We strive to be a valuable resource for every player at every level, and to provide expert advice anyone can understand on the most popular titles out there. We find the best new indie and undiscovered games worth paying attention to. Along the way, we celebrate diversity and inclusivity in the gaming community.
New design for mobile and video
Mic has also introduced a fully redesigned experience and logo. The new logo was designed to telegraph Mic's digital roots and commitment to journalism, with high readability on the small screen, throughout the social landscape and within our videos, where 80% of Mic's audience now consumes its content. The site incorporates AMP technology and progressive web app best practices to make it fast and easy for users to discover the most interesting written and video posts.