Florida student posted "Slaves for Sale" Craigslist ad with photos of black classmates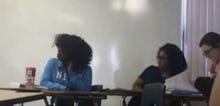 Slavery in the United States officially ended over a century ago, but a high school student in Florida got caught trying to sell his classmates.
An unnamed senior at Fleming Island High School in Jacksonville, Florida, took a photo of two black female students in class and uploaded it to a Craigslist ad titled "Two Slaves For Sale" with the asking price of $470. The listing tagged the location to "Fleming Island Plantation," which is a location that exists in the town, but the direct reference is to slave plantations in the South.
The listing's description is horrific: "Two healthy negro slavegals for sale. Good Condition and hard work ethic! If you need another pair of hands around the farm/house, you're in luck!" The ad has since been taken down.
Fleming Island Superintendent Addison Davis has already issued a statement condemning the obscenely racist attack on two students. 
"We do not tolerate this type of behavior, and we are disheartened that any of our students would be subject to discrimination," Davis said in statement to Florida's WPLG Local 10. "Fleming Island High School administration and district leadership are working together to create a school-wide plan of action to strengthen the climate and culture while celebrating the school's diversity." 
The student responsible for the listing has been suspended for 10 days and will transfer to an alternative school.