Government Shutdown: Spending deal averts shutdown for one week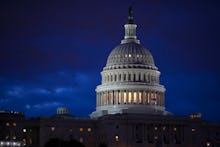 On Friday, the House and Senate both passed a bill that funds the government for one more week, averting a government shutdown at the 11th hour. 
The bill now heads to President Donald Trump's desk for approval.
Had Congress not approved the one-week funding measure, the government would have shut down at midnight on Friday — which also marks the start of Trump's 100th day in office.
The one-week funding bill gives Congress more time to flesh out a deal to fund the government through Sept. 30 — which marks the end of the fiscal year. At stake in a longer-term spending bill is Trump's proposed border wall between the U.S. and Mexico.
Democrats — who are opposed to construction of the wall — refuse to fund the wall's construction given Trump's promise that Mexico would pay. And since the Mexican government has made clear they won't be paying anything toward the construction, that leaves congressional Republicans to come up with the money and find the votes to pass a budget that funds the wall.
Trump, however, appears open to pushing the fight for border wall funding to the fall.