'Game of Thrones' Season 7: Will Hodor return? Kristian Nairn has a twisted idea in mind.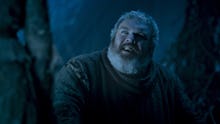 Just saying "people die on Game of Thrones" doesn't really do the show justice. Anyone can be killed off — even the show's main character and a mopey bastard living on the Wall (OK, Jon Snow was resurrected, but you get the point). Still, perhaps no death on the HBO series was as heartbreaking as that of Hodor, the fan-favorite with a penchant for saying his name a lot, carrying Bran Stark around like a Westerosi Uber driver and, well, not much else. 
But man, did it suck when Hodor was killed off in season six, as we discovered the origin of his name and how he, essentially, was always destined to his gruesome fate: Being torn apart by White Walkers while, yes, holding a door. And that's the last we see of Hodor, right? 
Maybe not. It would be quite the shock if Hodor made an on-screen return in season seven, but actor (and DJ) Kristian Nairn is game for a twisted return. In an interview with the Belfast Telegraph — the local paper of Belfast, Northern Ireland, where Game of Thrones films — Nairn was asked if he'd want to return as an "instrument of evil." In other words, a White Walker version of Hodor. 
Here's what Nairn had to say: 
As a fan I'm not sure I would that, but as an actor I would absolutely love that and it would be so much fun to play that. But I think it's kind of nice the way he left, there's been enough rebirth moments in 'Game of Thrones.' Maybe he's not dead, maybe he's just roaming around the countryside eating berries like a grizzly bear. 
A grizzly bear? Thank the Old Gods and the New that Hodor is a fictional character in Westeros and not a citizen of the United States. Some people in charge would prefer it if schools had access to guns for "potential grizzlies," and I guess in this case a "potential Hodor" hunting for berries.  
OK, but what are the chances of Hodor actually returning this season? Nairn remained mum on the subject, likely out of fear that Game of Thrones showrunners David Benioff and D.B. Weiss would personally hunt him down if he dared to drop a spoiler for season seven. "I can't give anything away," he explained. "I have let things slip before by accident and I've learnt the hard way." 
Regardless, I think some Game of Thrones fans would support a White Walker Hodor — even if it breaks their hearts once again. 
The seventh season of Game of Thrones premieres July 16 on HBO. 
Mic has ongoing coverage of Game of Thrones. Follow our main Game of Thrones hub here.