Fans bash 'Dawn of War 3' for adopting MOBA elements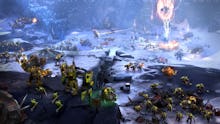 Back in Kansas, there was a saying: "If you don't like the weather, wait five minutes." The same rule applies to Warhammer video games. 
If Wikipedia is to be believed, there have been 10 games carrying the Warhammer license since the start of 2016, between Warhammer Fantasy and Warhammer 40,000. If you don't like the newest game, you can just wait a month or two and play the next one instead. 
Unfortunately, it sounds like that might be the course of action for the newest game, Dawn of War 3, which launched on Steam Thursday.
Fans criticize Dawn of War 3 for incorporating MOBA elements
Hat tip to Forbes for reporting this: Despite generally positive (but not entirely glowing) reviews from critics, the fan ratings on Steam for Dawn of War 3 are mixed. The biggest criticism from fans seems to be its incorporation of MOBA mechanics, a la League of Legends. The primary multiplayer mode apparently has tower-like structures and hero units that can dominate an army on their own. 
These ideas carry over to the single player campaign, which fans are calling disappointing because it's a simplistic, linear experience that acts as a tutorial for the multiplayer. 
This is notable, as the Dawn of War II campaign was non-linear, ditched base-building and allowed players to level up and customize their squad members. It sounds like the sequel has a much more straightforward campaign, which doesn't seem to be landing with some fans.
More gaming news and updates
Check out the latest from Mic, including our deep dive into how female Overwatch players are dealing with online harassment, an article about a fan movement advocating for more same-sex romance options in Mass Effect, a personal essay to JonTron from another Iranian-American and an article looking at cultural diversity in Overwatch.