This Week in Choice: A Democratic abortion debate and a Trumpcare loophole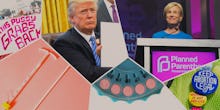 The big story this week in the reproductive rights arena is undoubtedly the Democratic party's squabble over its abortion platform. 
Democrat Heath Mello's campaign ignited the debate when news broke that the Omaha, Nebraska, mayoral candidate has a history of supporting — and even sponsoring — anti-abortion rights legislation. It turns out Mello has since revised his position on abortion rights, voting with Planned Parenthood 100% of the time since 2012. But when top Democrats were asked to account for their support of the candidate, they didn't point to Mello's evolution on the issue; instead, they said their party wouldn't write off anti-choice candidates.
"We have got to appreciate where people come from, and do our best to fight for the pro-choice agenda," Sen. Bernie Sanders, who endorsed Mello, told NPR. "But I think you just can't exclude people who disagree with us on one issue."
Sanders argued that defending women's right to choose requires Democrats first winning back some seats — and that might mean putting a Democrat who identifies as "pro-life" in office.
Reproductive rights advocates were understandably disheartened by this stance, which seems to throw women's rights under the bus for a "unified" Democratic party. 
"If [the] new Dem party pretends we can get real about economic security when what blocks women's economic security is our family planning, count me out," NARAL Pro-Choice America President Ilyse Hogue wrote on Twitter. 
Here's what else you might have missed this week:
 • Students at UC Davis can now purchase Plan B as well as condoms, pregnancy tests and tampons in a campus vending machine, thus realizing every conservative's worst nightmare.
• Serena Williams finally spoke out about winning the Australian Open while pregnant, telling Gayle King, "Pregnant or not, no one knew. Every tournament where I show up, I'm expected to win. If I don't win, it's actually bigger news." The world champion tennis star also confirmed she'll return to tennis after her maternity leave.
• In a move to help low-income families, New York State announced it will subsidize breast milk for preemies whose parents are on Medicaid. While the benefits of breast milk continue to be hotly debated, research shows it can dramatically improve outcomes for premature infants.
• In other New York news, on Thursday, Rep. Dan Donovan revealed a troublesome abortion-related loophole in the GOP's proposed health care plan in an interview with Chris Hayes. According to the representative, residents in blue states would be banned from taking advantage of the legislation's tax credits because it's illegal to use those credits for abortion services — and blue states' own abortion coverage laws require insurance to cover abortion. 
• The Handmaid's Tale premiered on Hulu this week, providing a disturbing glimpse into the possible future of reproductive rights in President Donald Trump's America. Or, as a New Yorker piece suggested, a new perspective on our present. 
• On the bright side, legislators in Illinois' House prepared for this possible reproductive dystopia by advancing a bill that would protect abortion rights should Roe v. Wade be overturned. 
• To the same ends, Virginia Gov. Terry McAuliffe made it a whole lot easier for women to access birth control by signing a law on Wednesday that allows insurance providers to write prescriptions for a full year of birth control pills.