Attorney General Jeff Sessions says law enforcement will "demolish" deadly MS-13 gang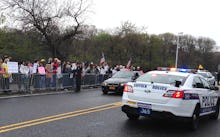 CENTRAL ISLIP, N.Y. — U.S. Attorney General Jeff Sessions promised Friday to "demolish" MS-13, the brutal gang with suspected ties to nearly a dozen recent murders in the Long Island suburbs.
"We are targeting you, and we are coming after you," Sessions said of the street gang, whose members are alleged to have slaughtered its victims with baseball bats and machetes.
Speaking at a federal courthouse in Suffolk County, Sessions said President Donald Trump, a native New Yorker, had "explicitly talked to me about the murders you've seen here, the young people we've lost. I know he's particularly alert to it."
The Associated Press reported in advance of the Sessions visit that "MS-13 has been blamed for a trail of 11 corpses of mostly young people discovered in woods and vacant lots in Brentwood and neighboring Central Islip since the start of the school year."
Because of MS-13, whose roots lie in Central America and which is known for bullying and punishing — even killing — those who refuse join or cooperate, "some parents say they are afraid to let their children go to school," the AP wrote.
Sessions said the White House and law enforcement are focusing on gangs' tactics of sending young members and recruiters to the U.S. via the southern border, from where they then spread out and settle in areas like Long Island. 
"I think the bad guys know how this system works, and they have exploited it," he said.
Critics of Sessions and of the Trump administration have said a promised crackdown on transnational organized crime outfits like MS-13 points to a broader anti-immigrant effort that includes deportation raids, attempts to institute a Muslim travel ban and the construction of a wall on the U.S.-Mexico border.
The Sessions appearance drew a group of protesters who were kept across the street from the federal building. They waved signs in the direction of the former Alabama senator, who defended himself against allegations of racism during his attorney general confirmation hearings. 
"Stop playing politics with immigrant lives!" one sign read, while another tauntingly told Sessions, "You forgot to wear your hood."
During a question-and-answer period with the press, Sessions downplayed what he called an "exaggerated" argument that a full-on crackdown on immigrants might deter people with information about criminal elements such as MS-13 to come forward for fear of being deported themselves.
That question also relates to the big-picture issues of sanctuary city protections.
The Justice Department is embroiled in a tug-of-war with an array of U.S. cities and the courts over protections afforded to undocumented immigrants. The federal government has said if the cities don't abide by immigration law, they'll forfeit funding from Washington; the cities say there are compelling reasons to encourage people not to remain in the shadows even if they're not in the country legally.
As far as law enforcement agencies go, Sessions said: "The vast majority in America do not adhere to that. There's still opportunities to call into 911 anonymously and we're not, to my knowledge, out seeking down witnesses to crimes to deport. I mean, I don't think we've got any examples of that."
"I think the better policy is to follow the laws Congress has set forth which basically says persons who are convicted of a crime in the United States shall be deported," he continued.
Republican Rep. Peter King, who represents Suffolk County where Sessions spoke, chimed in to say demonstrators and critics should have praised Sessions for coming to Long Island to address the MS-13 scourge.
"Imagine what they would have said if he didn't come?" King demanded. 
"That he agreed to come here shows the full strength of the federal government is for eradicating MS-13," said King, a member of the House Homeland Security Committee. "They should be on their knees thanking him — not out there protesting."
Following his remarks and news conference, Sessions met with the families of two MS-13 victims, Kayla Cuevas and Nisa Mickens.