'Bachelor' Chris Soules charged with felony in fatal tractor trailer crash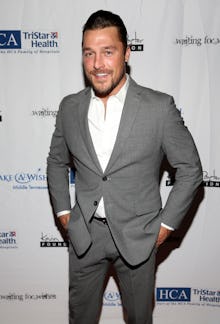 Chris Soules, former star of ABC's The Bachelor, has officially been charged with a felony in the fatal accident that occurred on Monday. Us Weekly confirmed the charges with the Buchanan County, Iowa, Sheriff.
The official charges come after Soules, 35, hired a team of high profile lawyers. He's being represented by Alfredo Parrish, Brandon Brown and Gina Messamer of Parrish Kruidenier Trial Lawyers, The Courier reports. A preliminary hearing is scheduled for 1:30 p.m. local time on May 2. 
Soules was arrested early Tuesday morning for his involvement in a fatal hit-and-run. According to police, Soules rear-ended a tractor trailer in Aurora, Iowa, at around 8:20 p.m. on Monday. Soules fled the scene of the accident, but a released recording reveals that he did call 911 to report the crash. On the audio, Soules tells the dispatcher that the victim, now identified as Kenneth Mosher, was thrown into a ditch and bleeding from the mouth. Mosher, 66, died after being taken to the hospital.
TMZ reports that open containers were found in Soules' vehicle, but it's currently unclear if the Iowa farmer was under the influence. Police were unable to run a blood test until hours after the crash due to Soules refusing to leave his home until a warrant was issued.
Soules could potentially be facing up to five years of imprisonment and a fine of up to $7,500 for a Class D felony.