'Madden 17' Rookie Ratings: John Ross and players who'll wreak havoc in Ultimate Team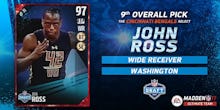 The first day of the 2017 NFL draft is in the books, and all 32 of the players taken in the opening round have been made available in Ultimate Team for Madden 17.
Ross was taken ninth overall by the Cincinnati Bengals after he set an NFL Combine record by running a 4.24 40-yard dash.
Predictably, Ross was given a 99 speed and acceleration rating. Translation: don't let him catch the ball in the open field against your defense in Madden, or he could be in the end zone in a flash.
Like all of the incoming rookies, Ross has an Elite and Gold card. Ross' Elite card is a 97 overall, and his Gold edition is an 82 with a 98 speed and 97 acceleration.
In either case, he's really fast in Madden 17. 
Here are four more rookies who could be assets in MUT.
Madden 17 Rookie Ratings - Myles Garrett - No. 1 Overall - Cleveland Browns
Elite - 99
Gold - 84
The Browns took Garrett No. 1 in the draft and if his card comes up during Draft Champions play in Madden, chances are most gamers will select him as well.
The pass-rushing prodigy's Elite card has a 95 rating in power moves and 93 in block shedding and tackling. 
The Gold card's ratings aren't as gaudy, but a 90 acceleration and 87 power moves and block shedding are more than respectable.
Madden 17 Rookie Ratings - Mitchell Trubisky - No. 2 Overall - Chicago Bears
Elite - 98
Gold - 83
The Chicago Bears gave up a king's ransom to trade up and select Trubisky on Thursday night. If he plays anywhere close to his MUT ratings, it'll all be worth it.
The signal caller's Elite card features throw-power, throw-on-the-run and throw-accuracy-short ratings of 95. Those numbers will make him as precise as a surgeon on the virtual gridiron.
The Gold version of Trubisky loses 15 overall points, but it's still solid. The throwing power is still a 94, while the accuracy numbers are in the mid-90s and he has a speed rating of an 80.
Madden 17 Rookie Ratings - Leonard Fournette - No. 4 Overall - Jacksonville Jaguars
Elite - 98
Gold - 83
If you're looking for a beastly running back in MUT who can plow defenders and take it to the house once he gets to the outside, Fournette is the latest player to fit the mold.
His Elite card has a 98 trucking rating and a 95-speed mark. That's an almost ideal combination of power and speed.
Madden 17 Rookie Ratings - Corey Davis - No. 5 Overall - Tennessee Titans
Elite - 98
Gold - 83
I've never seen Corey Davis play live, but when I watch footage of him, he reminds me of a faster Chad Ocho Cinco. One look at his Elite card ratings implies the folks at EA Sports see something similar.
Take a look at this stream of '90s in some of the most important receiver rating categories:
97 Release, 95 Spectacular Catch, 94 Catch in Traffic, 94 Speed and 94 Jumping. He's going to be difficult to contain in deep-ball situations.
While not as impressive, his Gold card numbers are good enough to create some issues for opponents, especially if you're playing Salary-Cap Ranked games in MUT.
EA Sports has really done well with their extensive supply of content for MUT. The draft coverage year after year adds longevity and safely guides fans into the next full version of the series.
All ratings info per Muthead.com.
More sports gaming news and updates
Love sports games? Check out more content from Mic, including tips for leveling up your NBA 2K17 MyPlayer, playing quarterback in Madden 17, our review of MLB The Show 17 and the classic Nintendo sports games we want to see on the Switch.