How many Executive Orders has Trump signed? Here's how he compares to other presidents.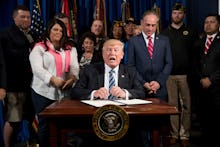 As President Donald Trump's administration hits the 100-day mark, the White House has boasted about the achievements he's made so far — especially his executive orders.
In a press release describing the president's "100 days of historic accomplishments," the White House highlighted Trump's action on executive orders, citing it as evidence Trump "has accomplished more in his first 100 days than any other president since Franklin Roosevelt."
According to the press release, Trump has signed approximately 30 executive orders in his first 100 days, ranging from high-profile directives like his infamous "Muslim ban" to more mundane matters, such as a recent order calling for a review of tax regulations. 
The actual number of executive orders remains in contention: The April 25 press release counts 30 executive orders, while White House aides cited by the Associated Press on the same day said Trump will have signed 32 executive orders by the time his first 100 days come to an end. As of Friday afternoon, 30 executive orders were listed on the White House website.
Whatever the number, the fact he White House is so quick to celebrate Trump's numerous executive orders is curious, considering the president had a very different view of them just one year ago.
"The country wasn't based on executive orders," then-candidate Trump said at a February 2016 town hall in South Carolina, as quoted by the AP. "Right now, Obama goes around signing executive orders. He can't even get along with the Democrats, and he goes around signing all these executive orders. It's a basic disaster. You can't do it."
During his first 100 days in office, Trump seemingly changed his tune — and overtaken many of his predecessors' executive order records in the process.
Past presidents' executive orders
Executive orders, Fortune noted, were a relatively infrequent presidential tactic until the administration of Teddy Roosevelt, who issued more than 1,000 executive orders while in office.
The current record for executive orders belongs to Franklin D. Roosevelt, who issued a total of 3,728 executive orders while in office, according to the National Archives. Though Trump's press release claimed FDR issued just nine executive orders in his first 100 days — an assertion historian Peter A. Schulman called "catastrophically wrong" — Roosevelt actually passed 99 executive orders during his first months in office, according to Schulman and FiveThirtyEight.
FDR's successors, as cited by FiveThirtyEight, kept their number of executive orders much lower, issuing anywhere between 11 and 26 orders during the first 100 days of their administrations. Lyndon B. Johnson came in at 26; Harry Truman was close behind with 25. These numbers, however, only account for their first elected days in office versus the actual first days of their presidencies — both Johnson and Truman were originally vice presidents who ascended to the top job after the deaths of John F. Kennedy and FDR, respectively. 
These more prolific presidents' first 100 days were often marked by great moments of crisis, which help explain their higher numbers of executive orders. FDR had to contend with the Great Depression, for example, while Truman faced World War II and its immediate aftermath and Johnson dealt with the Vietnam War.
Most recent presidents kept their first executive order numbers relatively low. Bill Clinton issued 13 executive orders during his first 100 days, while both George H.W. Bush and George W. Bush issued 11 each. 
Barack Obama — whose executive orders Trump was so quick to criticize — issued slightly more, although the 19 executive orders he signed still fall short of Trump's record. Obama would go on to issue 276 total executive orders while in office, the National Archives noted.
With a few exceptions, FiveThirtyEight explained, presidents' executive orders tend to slow down after the 100-day mark, and they issue fewer executive orders during their second 100-day period. Will Trump's presidency follow the same pattern? We'll have to wait and see.