20 years after her coming out episode, Ellen DeGeneres says everyone told her not to do it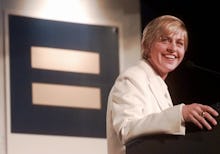 Sunday marks 20 years since the historic "coming-out" episode of Ellen DeGeneres' sitcom Ellen, a moment that changed the landscape for LGBTQ actors and tanked DeGeneres' career for years. In a new interview with the Associated Press, published Friday, DeGeneres spoke about the life-changing moment, saying she knew that it could potentially end her career — but she did it anyways.
"It became more important to me than my career," DeGeneres said of choosing to come out publicly. "I suddenly said, 'Why am I being, you know, ashamed of who I am just to be successful and famous in society's eyes?'"
DeGeneres' character on her sitcom, Ellen Morgan, came out in an episode of Ellen that aired on April 30, 1997 — days after DeGeneres herself came out in a now-famous Time magazine cover in which she proclaimed "Yep, I'm gay." 
DeGeneres told the AP that many around her cautioned her against coming out. "There was every indication that I should not do it," she said. 
"My publicist at the time said, 'Don't do it.' The studio, the network, everyone said (it)," she recalled. "I said, 'You know, look, you may lose a show but you have thousands of other shows revolving through this door that come to you and you'll have another show. This is my career. If I'm willing to lose my career for this, you have to let me do this.'"
The episode in which her character came out as gay was a massive undertaking — the AP reports that the first draft of the episode, code-named "The Puppy Episode," was rejected by the show's Disney representative. After the episode finished filming, the entire cast, crew and audience had to be evacuated from the soundstage because of a bomb threat.
The episode was watched by an estimated 44 million people and won numerous awards — but DeGeneres' career took a nosedive after it aired. Her show's following season bled sponsors, many of the episodes were preceded by "adult content warnings" and it was eventually canceled. 
Hate mail flooded in for DeGeneres and others involved in her show's historic episode, and she didn't work for three years, according to the AP.
But, in the years between the coming-out episode of Ellen and DeGeneres' return to the spotlight as a beloved and massively successful daytime talk-show host, the landscape changed dramatically for LGBTQ people in media — and much of that change was likely thanks to DeGeneres. A 2015 Variety poll found that DeGeneres had done more to change Americans' perceptions of gay rights than any other public figure.
Yet there's still much work to be done. GLAAD's 2016 "Where We Are on TV" report found that only 4.8% of series regular characters on scripted television identified as LGBTQ. 
But DeGeneres' coming-out episode ushered in a sea change for gay representation in the media — and, as she told the AP, she did it knowing that telling the truth about who she was could cost her everything she had worked for.