A reproductive rights group wants to help women in the US self-induce abortions safely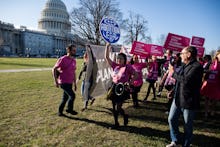 A reproductive rights advocacy group is preparing to arm women with information on how to self-abort pregnancies, should President Donald Trump succeed in fulfilling a campaign promise to overturn Roe v. Wade.
According to the Washington Post, the Netherlands-based organization Women Help Women launched a website offering individual counseling to women attempting to self-induce an abortion, a service they already offer to multiple countries around the world. 
In addition to one-on-one counseling, the site includes information on how to use abortion pills, warns of possible side effects or complications and helps women locate clinics that can provide them with the pills or safely perform the procedure.
Kinga Jelinska, the organization's executive director, told the Post the initiative is a direct result of anxieties surrounding Trump's aspirations to pass anti-abortion rights legislation.
"There is a lot of fear and worry that, with the current administration and restrictions that are to the enormous disadvantage of girls and women, that access to clinical care might further diminish," Jelinska said.
Women Help Women's new site isn't just a safeguard against the possibility of U.S. abortion rights completely disappearing. Jelinska said the initiative is also a response to the already-dwindling reproductive options for women.
Indeed, Trump's aims at defunding Planned Parenthood disproportionately affect low-income women, who rely on Medicaid and Title X funding for reproductive health care.
Earlier in April, Trump signed legislation giving states the all-clear to withhold Title X funding, which helps subsidize birth control, cancer screenings, STI testing and well-woman exams. According to Planned Parenthood, almost 90% of patients who seek these services at its clinics have incomes below 200% of the federal poverty standard.
Meanwhile, the GOP's stalled health care plan includes a provision that would withhold Medicaid funds from Planned Parenthood for a year.
Limiting access to abortion or banning the procedure altogether doesn't prevent abortion from occurring — it only increases the number of women who undergo unsafe abortions. According to a study published in the journal Obstetrics & Gynecology, every year 20 million women worldwide receive unsafe abortions; 68,000 of them die from the procedure, placing it among the top causes of maternal death. In developing countries, some 400 women die every day from self-induced abortions. 
Jelinska hopes Women Help Women can prevent these deaths and guide women toward the reproductive choice that's best for them.
"Sharing referrals and information about safe abortion is part of our mission and core to the human right of bodily autonomy," Jelinska said in a press release on the organization's website. "Each of us should be able to decide on the care that is best for our circumstances, effective and safe — both medically and legally."