Meet the person who tried to warn everyone about the Fyre Festival debacle a month ago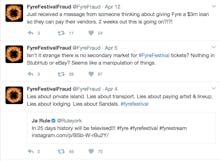 The debacle that is Fyre Festival caught its festival attendees off guard. But one person saw the writing on the wall and has been trying to alert people via Twitter for a whole month. 
Since late March, FyreFraud has been tweeting about the inconsistencies and red flags inherent in the Fyre Festival's fundings and claims. In a phone interview, the person behind the account, who has intimate knowledge of the music industry and asked to remain anonymous, explained how he recognized the true breadth of the Fyre Festival fraud and why he felt obligated to inform the public. 
"It took Coachella 15 years to get to be a two-week festival. You don't launch with that," FyreFraud said. "You don't do that with a first festival. The whole thing was just a complete disaster." 
The first thing to tip off the Twitter user was the speed with which organizers claimed they'd be able to pull off the festival. 
They said: 
If they'd properly raised funds, and permits, it's at minimum an eighteen month job. You're talking about building a small city on a deserted island. That's water power, facilities, medical, transportation. 
Then my thought was, okay, this is so ambitious. There's no way this thing succeeds, it will failed early and people won't be harmed. Then they went on this like social media blitz where they had all these models fly out there and did this over-the-top photo shoot and this very robust social media strategy. People I knew started buying tickets, and I was like, "Guys! This doesn't make sense. Don't do it! Stay away." 
Once FyreFraud felt the festival was a bit fishy, they started to do some investigating and tweet out the results of the sleuthing. 
FyreFraud said: 
I started the Twitter account and started really digging in, doing some investigative work, like what the logistics of this are. They've posted something about the image of the island and I was like, "That's not the image of Norman Cay!" That's when I searched around I realized it was Great Exuma, which is a massive island that was not private and was never owned by Pablo Escobar. I matched the geography of where it was and realized it was a failed development next to the Sandals resort. 
Then they posted a photo of their tents and I went and researched the tents and realized that those were Hurricane Matthew U.S. aid tents! It's the same tents that U.S. aid sent to the island when it was hit by hurricane last year. That is a very far delta from the exotic, luxurious experience with famous people that had been described. 
According to FyreFraud, the festival banked on the "cool" factor of associated acts like Bella Hadid and Emily Ratajkowski, rather than the music lineup, the true draw of any proper music festival.
"They were very effective at surviving for things that festivals are not supposed to survive for. It's supposed to be the strength of your lineup that sells your tickets. Well, they didn't announce the lineup until months after they started selling tickets. For a new festival, that's a very hard thing to do. Further, they deliberately, in my opinion, propagated, or at least didn't end, rumors that said Kanye West's G.O.O.D. Music, that's who are the headliners. When you think Kanye West's G.O.O.D. Music, you think, 'Oh, Kanye West is coming to play.'"
Though it's hard to speculate about when the writing was on the wall as to when the festival was really in trouble, FyreFraud said the difficulty behind getting a private island was probably an indication that the festival was in for a rocky road. 
Making matters worse, some reports surfaced that the festival couldn't pay its musical acts. FyreFraud pointed to a Wall Street Journal article that alleged headliners for the festival had not been paid as a sign that the festival was in a tight financial situation. 
At the time, a Fyre spokeswoman told the Journal that "artists have been paid according to terms."
Citing various sources, Vice reported the festival planned to purchase a private island owned by Escobar for its music festival, but later had to move to the location that FyreFraud had tweeted about, near a Sandals resort. 
"To buy a private island, I know, takes a huge amount of time, because you've got to get the permits from the state government, you've got to demonstrate that you'v got an ecological plan," FyeFraud said. "The transfer of ownership is not like buying a condo. To buy an island, it's a process. And it's a process that couldn't be done in eight months."