'Overwatch' Character Fan Art: Check out this 'Fire Emblem-style' collection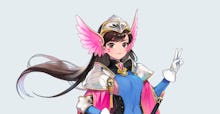 From cute cupcakes to custom tattoos, Overwatch fan art constantly shows just how much its fandom loves the game. One particular group decided to make a collection of illustrated fan art in the style of the fantasy genre, à la Fire Emblem. 
The collection of work — aptly titled Overwatch Fantasia — is a collaborative project by several Korean artists who organized via Twitter. 
The result is a series of stunning illustrations that take Overwatch characters out of the slightly futuristic genre into new fantasy scenarios. We talked to a couple of the artists to find out more about the inspiration behind their work.
Overwatch Fantasia took inspiration from both mythology and other video games
Overwatch Fantasia was started by CKYM, who had a brief Twitter interaction with a friend when they mentioned how cool it would be to draw D.va in armor instead of a mech. For the project, CKYM drew that exact image. With the long, flowy cape and the winged helmet, D.va looks a lot like a Pegasus Knight from the Fire Emblem series. 
It turns out that this is by design. CKYM was inspired by '90s Japanese RPG games like Fire Emblem and Final Fantasy. CKYM was also responsible for organizing the rest of the work and created the site as well.
Another artist in the project, Taedu, made Bastion out of stone. When asked what the inspiration was Taedu said, "The first thing that reminded me of a robot in the fantasy world was a golem. A golem is an inanimate object that is often seen in other game genres, but it obviously can't be in futuristic games." 
CKYM said that it's a lot of work, but if the group found the time, its members would be interested in organizing or participating in projects that use other styles for Overwatch characters. Based on how well Overwatch Fantasia turned out, we can only hope something like that is in the future.
More Overwatch news and updates
For more on Overwatch, check out the rest of what Mic has to offer. Here is our Project Runway-style judging of every new Uprising skin, an unintentionally hilarious infographic showing the most popular Overwatch characters in each state, our definitive ranking of every Overwatch hero and a giant Overwatch FAQ for beginners.