Fyre Festival: Artists detail the red flags they saw leading up to the event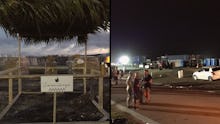 As Roberts Burns once kind of wrote, the best laid plans of Instagram influencers and start-up scam artists often go awry. Friday morning, the world awoke to a bizarre scene on the Bahamian island of Great Exuma, when the Fyre Festival, organized in part by rapper Ja Rule and Billy McFarland and billed as a "a cultural moment created from a blend of music, art and food," turned out to be something far closer to the Lord of the Flies.
Festival attendees, many of whom paid between $450 and $4,395 for passes and lodging, found that the modern, luxury get-away the festival's marketing promised was in complete disarray. Security and organizers were nowhere to be found, the reportedly posh accommodations were actually soggy tents and the gourmet cuisine was actually a few slices of cheese and packaged bread.
However, it seems there were signs the festival was heading towards catastrophe weeks in advance, as some of the artists connected with the festival revealed Friday and the days leading up to it. 
"We had heard rumors of problems but saw no hard evidence to suggest this was going to be anything other than just potentially difficult (like many other first year festivals are.)," Olly Chubb, general manager for dance act Le Youth, wrote in an email exchange, reporting that the artist's touring party had arrived in Nassau Friday morning. "We woke up this morning to some concerning press coverage but as always came here ready to do the job and come out for our fans (if they have traveled here than so will we)."
After some initial confusion about whether or not they were actually booked, a rep for Bedouin shared that the band cancelled their performance after word concerning the conditions of the festival's amenities began to spread. The band will continue on with its current European tour.
Blink-182 cancelled their appearance Thursday afternoon, tweeting, "We're not confident that we would have what we need to give out the quality of performances we always give our fans."
DJ and Nylon digital editor Dani Deahl also saw "red flags" in how she was approached to attend the fest, as she shared Friday on Twitter.
"#FyreFestival tried to have me go for press but refused to pay for flight from Chicago — BIG RED FLAG so I said no," she wrote. "Holy shit glad I did."
According to an unnamed Page Six source, the festival's organizers, including Ja Rule and McFarland, had started to warn A-listers not to attend the fest's first weekend.
"They called all the A-list names and the modeling agencies and told them not to come," the source said. "They were just like, 'Oh come next weekend when all the kinks have been worked out.' This was before the chaos even started."
Yet, that chaos started weeks before the launch, according to a report from the Wall Street Journal. In early April, the paper published a piece claiming the organizers had "missed a series of deadlines to make advance payments to performers," and that the festival's "concierge" team had "been slow to provide them with logistical details."
"In my experience first year festivals are always something you have to approach cautiously but with an open mind too. Its such a huge logistical task to pull off and requires military organization and significant funding, so its not easy to get right first time no matter how prepared you are," Chubb detailed in his email. However, he and the Le Youth team took care to make some contingency plans in case of potential issues.
"One of the reasons we decided to stay in Nassau rather than Exuma is we had foreseen potential travel issues in and out of Exuma just due to the sheer volume of people coming through — although I don't think anyone could have expected to see the reports that have been coming in and just how bad it appears to be," he said.
"We just hope that everyone affected gets home safely and as quickly as possible and we're sending our love and good vibes to those who need it right now," he added.
Reps for Kaytranada, Jan Blomqvist, G.O.O.D. Music and Claptone declined to comment for this article. Mic has reached out to the bulk of the Fyre Festival's lineup and will update with additional responses.
Mic has ongoing music coverage. Follow our main music hub here.