Sen. Chris Murphy counterprogrammed Trump's NRA speech with a devastating Twitter thread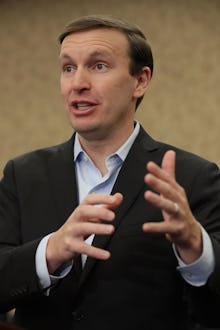 Sen. Chris Murphy (D-Conn.) went on a devastating tweetstorm during President Donald Trump's Friday speech at the National Rifle Association, tweeting out pictures of Americans killed by gun violence in the United States.
Trump's speech marked the first time since President Ronald Reagan was in office that a sitting president addressed the NRA. 
In his NRA address, Trump thanked the crowd for helping hand him a presidential victory, declaring, "The eight-year assault on your second amendment freedoms has come to a crashing end."
Murphy, however, took the president to task for addressing the group.
"@realDonaldTrump about to take stage at NRA, to celebrate right of criminals to own guns, to glorify weapons that kill," Murphy, who represented Connecticut during the Sandy Hook Elementary School shooting, tweeted. 
"Here's my advice," Murphy added. "Turn off cable. Don't watch @realDonaldTrump's NRA speech. Instead, think about who we are fighting for."
Then Murphy changed the narrative, tweeting a photo of Ana Márquez-Greene, a 6-year-old girl killed in the Sandy Hook shooting. 
Next was Jessica Ghawi, who was killed in a movie theater shooting in Aurora, Colorado, at the age of 24.
Then Jordan Davis, the 17-year-old who was shot in Florida for "playing loud music" outside a convenience store.  
And Benjamin Wheeler, another 6-year-old killed in the Sandy Hook tragedy. 
There was Hadiya Pendleton, a 15-year-old shot in the back and killed after taking a test at school in Chicago. 
And Alison Parker, the 24-year-old television news producer whose murder by a former coworker was broadcast live on television.
And Daniel Barden, 7, another Sandy Hook victim.
And Christopher LaVell Jones, 17, killed by gunfire in his driveway in Oakland, California.
And Christopher Ross Michael-Martinez, 20, killed in a shooting at the University of California, Santa Barbara.
And Terrell Bosley, 18, killed by gunfire in Chicago on his way to church.
And Dylan Hockley, another 6-year-old Sandy Hook victim.
"That's who we fight for," Murphy said in the final tweet of his tweetstorm. "And with 90% of Americans and 80% of gun owners on our side, we can't lose. Let's get to it."