Here's how LGBTQ activists are trying to help persecuted gay men in Chechnya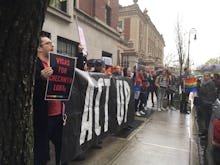 After reports surfaced in early April of a systemic effort by the government of Chechnya to abuse and imprison the country's gay men, human rights groups and non-governmental organizations sprang into action. 
The situation looked grim: Russian newspaper Novaya Gazeta claimed that at least 100 gay men had been rounded up by authorities and were being held in concentration camp-like facilities, and that at least three men had been killed.
The report prompted a flat denial from Chechen President Ramzan Kadyrov's spokesperson, Ali Karimov, who said it would be "impossible to persecute those who are not in the republic."
But on the ground, from New York to Moscow, covert missions to help Chechnya's persecuted LGBTQ population were already underway — even without the help of either country's government.
"Anyone who speaks to Putin needs to be asking questions"
For weeks after the Novaya Gazeta report published, Russian government officials were silent on its allegations. But eventually, mounting international pressure forced the Kremlin's hand. Dmitry Peskov, spokesperson for Russian President Vladimir Putin, told journalists on April 14 that the country "does not have any reliable information about any problems in [Chechnya]."
While human rights groups balked at the denial, claiming that the Russian government never had any intention of conducting a proper investigation into the abuses, Nina Long — co-president of New York-based nonprofit RUSA LGBT — took the comment as a small victory.
"Our goal is really to make sure that any time anyone from other countries speaks to the Russian government, they bring up [Chechnya], ask questions, they follow up, so that Putin will feel that the world is watching, that we care, that we ask questions and that we demand change," Long said in a phone interview.
Long, along with others at RUSA LGBT, works in New York to establish communities and safe spaces for the Russian expats who come to the city for refuge after facing persecution in their homeland.
Long said it's generally not difficult to get the public to engage with and read the stories coming out of Chechnya, noting the group's main challenge is getting American citizens to take their outrage further than social media.
"It needs to travel to the State Department, Rex Tillerson, anyone who speaks to Putin and his government, needs to be asking those questions: What is happening in Chechnya, what steps have been taken to help the victims?" she said.
"Right now they're using this line of, 'all of this isn't true, there are no gay people in Chechnya, so it's denial on their part, and so the international community has to do our part to make them acknowledge that and stop denying it," she added.
The obstacles of immigration laws
For groups like RUSA LGBT and the Russian LGBT Network  — an interregional, nongovernmental human rights organization — efforts to help and evacuate gay Chechens are stymied by immigration laws.
Long, based in New York, said that she believes an American initiative to issue humanitarian visas would probably be the biggest help the country could give.
"America really needs to issue humanitarian or public interest paroles to a handful of people who do want to come to America ... it's outrageous, you know?" she said.  "We are in a position to help, and there are not that many people right now who have that interest."
"We are in a position to help, and there's not that many people right now who have that interest."
In a phone interview, one worker at the Moscow branch of the Russian LGBT Network, who asked to remain nameless, said that at least 80 people have contacted a hotline set up by the group for persecuted Chechens so far. 
Once the phone rings, the activist said, the group operates under the assumption that it must act within 24 hours to help the individual out of Chechnya.
"We are able to organize immigrations the next day after people are contacted, otherwise it would be pointless," the activist said. "These people are being hunted."
The volunteer said that, so far, the Russian LGBT Network has successfully immigrated 30 people from Chechnya. They declined to discuss the process by which such immigrations are undertaken, citing security concerns. 
Long said that Americans can help by continuing to pressure their elected officials and by continuing to be "pro-refugee."
"The humanitarian visas and the public interest paroles are just such an easy help, and it's really shameful that we didn't do it yet," she said.
According to Long, even seemingly small actions — like a recent protest organized by RUSA LGBT outside of the Russian consulate in New York — could help keep the pressure on elected officials to respond to the crisis.
"The Russian consulate knows that we were there," she said. "They know we've been here, they know the media's been here, they know that they cannot just keep silent and pretend that nothing is happening... We did our small part last weekend, and we're going to do more."