These models promoted Fyre Festival — but haven't said a word about what a disaster it was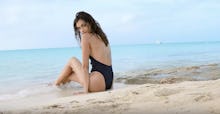 The unfolding chaos that is Fyre Festival — a music festival that was scheduled to begin in the Bahamas on Friday but quickly fell apart when festival-goers realized that almost nothing was as promised — was hyped by a crew of models and Instagram "influencers." 
A host of celebrity models appeared in promotional materials lauding the upcoming festival in the weeks and months leading up to it — but they've been notably silent since it all fell apart.
According to W Magazine, a crew of models that included Bella Hadid, Alessandra Ambrosio, Emily Ratajkowski, Gizele Oliveira, Hailey Baldwin, Paulina Vega, Lais Ribeiro, Rose Bertram, Shanina Shaik, Hannah Ferguson, and Elsa Hosk were all flown out to the Bahamas for a shoot promoting the festival back in December, and many posted about Fyre Festival on their personal Instagram accounts.
Kendall Jenner also promoted Fyre Festival in an Instagram that appears to have since been deleted, but said, "So hyped to announce my G.O.O.D. Music Family as the first headliners for @FyreFestival. Get tix now at fyrefestival.com. VIP access for my followers ... use my promo code KJONFYRE for the next 24 hours to get on the list for the artists and talent afterparty on Fyre Cay. #FyreFestival."
But since the reveal that Fyre Festival isn't as much a luxury lifestyle experience as it is a tent city with cheese sandwiches in styrofoam containers, the models and Influencers who threw their big names behind the event have been silent.
Jenner hasn't posted about the disastrous festival on her Twitter or Instagram, and the models who appeared in the December shoot to promote the event appear to be keeping mum about the mess. 
One of the only people behind the festival who's actually spoken up is festival organizer Ja Rule, who posted an emotional message on Twitter saying that the disastrous event has left him "heartbroken."