'Mario Kart 8 Deluxe' Amazon: Shipments delayed for customers who pre-ordered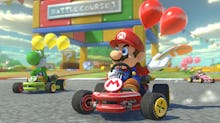 If you pre-ordered Mario Kart 8 Deluxe on Amazon with the expectation that it'd arrive on release day — as Amazon advertises on its website — you may want to check your email, because Amazon appears to be having serious issues fulfilling these pre-orders on time.
Amazon's struggling to deliver pre-orders of Mario Kart 8 Deluxe on time
According to a customer service representative at Amazon — who I contacted when I received a delayed delivery notification on my own order of Mario Kart 8 Deluxe — there seems to be some sort of widespread inventory issue at play.
"The order for this item has been delayed for each and every customer on Amazon," Amazon said via its online chat support. "Since the item was not received from the carrier, the order has not been shipped."
Polygon's Ben Kuchera reported that Amazon told him something similar — that every single customer who pre-ordered Mario Kart 8 Deluxe is experiencing delays — but that seems to be an exaggeration. Nevertheless, the problem seems pretty common.
A quick search on Twitter yields lots of customer reports of delayed shipment notifications:
It's unclear why customers weren't made aware of these delays earlier so that they could make plans to secure a copy elsewhere. Mic has reached out to Amazon for comment and will update with any response.
More gaming news and updates
Check out the latest from Mic, including our deep dive into how female Overwatch players are dealing with online harassment, an article about a fan movement advocating for more same-sex romance options in Mass Effect, a personal essay about JonTron written by a fellow Iranian-American and an article looking at cultural diversity in Overwatch.