Rihanna wins the Met Gala red carpet — again — with her most outrageous look yet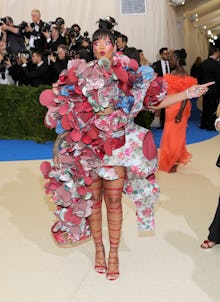 Of course Rihanna would take this outrageous Rei Kawakubo/Comme des Garçons theme to heart. To the 2017 Met Gala, Rihanna showed up in an outfit that can only really be described as "art" — and thusly won the night. 
The ensemble, which is obviously by Kawakubo's Comme des Garçons, looks like piles of scrap paper, shooting out from Rihanna's body in shades of red and pink and blue, which she could literally hide behind. 
With bright pink cheeks and bright red shoes, the look was a perfect ode to Comme des Garçons, which is all about fearless style. 
Truly, it was the best. 
And Twitter reacted appropriately. 
The look continued Rihanna's legacy of ruling the Met Gala red carpet, like when she showed up to the 2015 gala, of course, in an extravagant, one-of-a-kind stunner handmade by designer Guo Pei.  
Or when she showed up in 2014 in this two-piece Stella McCartney number.
Truly, we don't even deserve Rihanna.