Half of immigrants arrested in February had traffic violations or no criminal record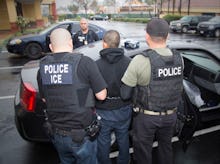 Of the 675 immigrants detained across the United States in a series of raids in early February, about half had no criminal record or had recorded traffic offenses, like drunk driving, the Washington Post reported.
According to the Post, congressional aides provided the records, which offered a detailed look at the backgrounds of the individuals picked up in the raids, which were purported to target "public safety threats." 
One hundred and sixty three of the immigrants detained had traffic offenses, with over 90% arrested for drunk driving. Traffic offenses made up the largest constituency of those arrested with prior convictions during the raids. Of those detained, 177 had no criminal convictions at all, though 66 of those people had charges pending, mostly for traffic offenses or immigration violations. 
Two of the 675 people had been convicted of homicide, 80 were convicted of assault and 57 had convictions for "dangerous drugs." 
This data presents a reality at odds with the one Trump and his administration has portrayed about immigration and the raids again and again. A longtime arbiter of the theory that immigrants bring crime and drugs to America, Trump ran on a promise to deport immigrants. At the time of the raids in February, ICE relayed that 75% of those arrested had criminal convictions. 
But this new data contradicts that statement. ICE carried out these raids during daylight hours in homes, at people's places of employment and on the road. Some groups believe that by targeting people in public while it was light out, ICE aimed to intimidate immigrant communities. 
"The Obama administration shied away from big displays of enforcement because it would alienate their base," J. Kevin Appleby, senior director of international migration policy for the Center for Migration ­Studies of New York, told the Washington Post in February "For Trump, it is red meat for his supporters and fulfills a campaign pledge." 
Since Trump's inauguration, several videos depicting ICE raids disrupting families and communities have gone viral. One Texas family broadcasted the broad daylight arrest of two men on Facebook Live. In March, California ICE agents arrested a father of four while his daughter sobbed in the backseat of the car he was driving. 
So far, according to the Post, the administration has detained 21,362 immigrants from January through mid-March. 
Since the time of these raids, Trump has also instituted the Victims of Immigration Crime Engagement office, which is meant to be a resource for those who have been the victim of a crime committed by an immigrant. The office's announcement was met with boos when Trump announced it in front of Congress. When VOICE's hotline opened in April, people began to troll it with stories of outer-space aliens rather than undocumented immigrants.