'Orange Is the New Black': Hacker leaks Netflix drama's fifth season online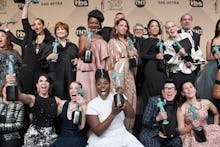 In the early hours of Saturday morning, an anonymous hacker allegedly leaked the entire fifth season of the hit Netflix show Orange Is the New Black to piracy file-sharing site The Pirate Bay, Variety reported. A hacker group released the episodes after first threatening Netflix to release them unless the streaming giant paid him an undisclosed amount of money. Without the moolah in hand, the hacker carried through on its promise. 
The 10 leaked files totaled 11 GB of bingeing glory, though Variety was unable to verify if they really were the fifth-season episodes. 
The files were shared on the site by a user named "thedarkoverlord," who also released the following message, obtained by Variety: 
"It didn't have to be this way, Netflix. You're going to lose a lot more money in all of this than what our modest offer was," thedarkoverlord wrote. "We're quite ashamed to breathe the same air as you. We figured a pragmatic business such as yourselves would see and understand the benefits of cooperating with a reasonable and merciful entity like ourselves." 
Orange Is the New Black is currently slated for a June 9 release, though whether that will be moved up due to the hack is yet to be seen. 
In a statement to Variety on Friday, Netflix said it was aware of the situation and that the "appropriate law enforcement authorities are involved." 
The hacker (or hacker collective) allegedly also has a hold on shows from ABC, Fox, National Geographic and IFC and had a message for those networks. 
"And to the others: There's still time to save yourselves," thedarkoverlord wrote. "Our offer(s) are still on the table — for now."
Netflix has ordered Orange Is the New Black through season 7. Though Netflix does not release viewership data, execs have said it is the platform's most watched original series. 
The show has catapulted several of its actors into stardom, including Danielle Brooks, newlywed Samira Wiley, Uzo Aduba and transgender activist Laverne Cox.