12-year-old girl asked to change out of "seductive" dress to continue in chess tournament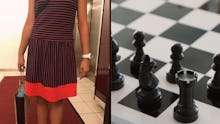 Asking whether the dress is white and gold or black and blue is so 2016. The new question is: Is this dress too "seductive" for a 12-year-old? 
On Thursday, Kaushal Khandhar took to Facebook to post a story about a chess tournament in Putrajaya, Malaysia, in which a 12-year-old girl was asked to change out of a striped dress deemed too "seductive" for the tournament. 
According to Khandhar, during round two, the chief arbiter of the competition told his student that the dress she was wearing violated the tournament's dress code. He added that the dress was "seductive" and a "temptation from a certain angle far, far away." 
According to the Facebook post, the arbiter later apologized and said she could join the next round if she went and bought a new outfit, but by the time he relayed the message, stores nearby were closed and would not be open again in time for the next day's round of the competition. 
The girl's mother, Chin Wai Ling, spoke to the Star, a Malaysian tabloid. 
"I tried to explain to the chief arbiter that I only brought three dresses of similar length for the three-day event, and the fact that she had tights on," Chin said. "So nothing was revealed. I tried to reason."
Chin said the arbiter promised to return her call about the outfit problem, but never followed through. 
"He did not reply our email until I forwarded it to every member of the Malaysian Chess Federation," she said. She also said the dress code is based on the World Chess Federation's Laws of Chess, which requires the participants to have a "dignified appearance." 
Many of the people in the comments underneath the original Facebook post were disgusted that a 12-year-old's modest outfit could be labelled "seductive." 
The girl had to withdraw from the competition, even though she was a champion in her district and "has shown tremendous potential in chess," according tot he Star. 
"This incident has left her extremely disturbed, and embarrassed," Khandhar wrote. 
The girl and her family are seeking a formal apology from the arbiter. According to the Star, the tournament director said the matter is being investigated.