Donald Trump quit the White House correspondents dinner, so Samantha Bee stepped up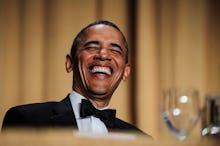 The White House Correspondents Association dinner had, by the end of the Obama administration, become one of the most sought-after tickets in Washington. It was a chance to mingle with celebrities and to titter at then-President Barack Obama's few jokes. You might even become a tiny part of history.
In less than a decade, "nerd prom" had turned into a multi-day extravaganza of corporate- and lobbyist-sponsored side events, watch parties and afterparties, all anchored by a chintzy red carpet broadcast on C-SPAN, a meal in the basement of the hotel at which Ronald Reagan was nearly assassinated and a comedy set with (usually) many of the punches pulled.
Nominally, as the organization points out, the dinner serves as a fundraiser for the White House Correspondents Association's scholarship program, which goes to budding student journalists. But the size of the scholarship fund is dwarfed by the salary of the White House Correspondents Association's executive director. Really, nerd prom is mostly a media-oxygen-sucking event thrown for the president in order for the journalists that cover any given administration to mingle socially with the people they're supposed to be holding to account.
At least, that was the case until this year. President Donald Trump — with his entire administration standing "in solidarity" over his allegedly unfair treatment at the hands of the media — won't attend the first such dinner of his presidency and, instead, will hold a rally in Harrisburg, Pennsylvania, to celebrate the accomplishments of his first 100 days in office.
Between the president's disinclination to attend and the discomfort among some in media with his very being (Vanity Fair editor Graydon Carter has written about Trump's brutish behavior during the 1993 dinner and pulled out of this year's soiree), this year's dinner is expected to be a toned-down affair.
This year, all the fancy parties have been cancelled. The biggest celebrities known to be coming into town are either reportedly confining themselves to the Creative Coalition's party in support of arts education, or heading out to see comedian Samantha Bee's counter-programming — an event called "Not The White House Correspondents Dinner" followed by virtually the only hotly anticipated afterparty in town, featuring Elvis Costello. Bee's afterparty is tellingly scheduled to start just as the official dinner does (though the show will air slightly after).
Trump had a famously testy relationship with the press throughout his presidential campaign, but the attacks from his camp directly on Washington journalists kicked into high gear after the election. "They should rethink from the ground up the whole concept of the White House press corps," Trump surrogate Newt Gingrich said on Nov. 30. It wasn't until late February, however, that Trump said in a tweet that he would be skipping the Correspondents' dinner.
Bee's event was conceived as an alternative to and mild protest of the annual dinner — or, in her words, a "celebration of the First Amendment" — as well as a benefit for the Committee to Protect Journalists.
"We were like, 'I wonder if it's even going to happen,'" Bee said in an interview with Lena Dunham for the Hollywood Reporter. "'Would [Trump] even show up for it? He's marginalizing people. He's going to abolish the White House press corps, perhaps. Who even knows?' And we were like, 'I don't think the dinner's going to happen. Why don't we have a dinner just to make sure something happens on the night?'"
Bee's event is also a sly nod to the fact that, while other Daily Show alumni — Stephen Colbert, Larry Wilmore and, this year, Hasan Minjah — have been the featured entertainment at the actual White House correspondents dinner they are typically not well-received by the assembled press corp, who prefer a little less bite in their comedy.
Bee, however, has slightly different plans for her own show. "We're starting the evening with a bang," she said in the Hollywood Reporter interview. "We've invited a lot of people from small news outlets. We want to highlight the work that ... lesser-known news outlets and some old newspapers, local newspapers do because it feeds us."
She has a number of other slightly different plans from the main event as well — including plenty of cursing and a red carpet that might make the Correspondents Association slightly green with envy (if that's not just the fluorescent lights in the Hilton's basement). 
The Washington Post reported that the guests will include "Keegan-Michael Key, actor and former White House staffer Kal Penn, feminist icon Gloria Steinem, actress/writer Rachel Bloom, 'Top Chef' host Padma Lakshmi, Veep actor Matt Walsh, 'Leftovers' creator Damon Lindelof, the E Street Band's Max Weinberg, and comics including Retta, Jordan Carlos, Janelle James and Jessica Williams," the latter another Daily Show alumna.
It turns out that, in the year that progressives have dubbed their movement the "resistance," it's not the under-attack press corps to which Americans can look for succor — it's a recently naturalized American woman with a late night cable comedy show and a potty mouth. But in the age of the pussy hat, that's probably about right.