Fyre Festival head Billy McFarland admits organizers were "a little naive"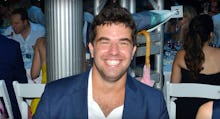 On Friday, news broke that attendees at the ultra-hyped Fyre Festival did not receive the luxurious experience they expected and instead found disaster relief tents, feral dogs and sweaty cheese sandwiches.
While festival co-organizer Ja Rule released a statement on social media Friday afternoon, most organizers behind the festival have remained silent — until now. In an interview with Rolling Stone, organizer Billy McFarland spoke out about the summer festival disaster. 
McFarland said the site they chose "didn't have a great infrastructure" and that organizers were a "little bit ambitious." 
"There wasn't water or sewage," McFarland said. "It was almost like we tried building a city out of nothing and it took almost all of our personal resources to make this happen, and everything we had, to make this festival go on." 
McFarland said a bad storm was responsible for much of the disarray. The storm left organizers little time to prepare for the thousands of guests' arrival to the island. 
"We were on a rush job to fix everything, and guests were arriving and that caused check-in to be delayed," he said. "We were overwhelmed and just didn't have the foresight to solve all these problems."
Several of the problems McFarland described were portended by the account @FyreFraud, who in an earlier interview with Mic said he saw the signs of failure at least a month out. 
"It took Coachella 15 years to get to be a two-week festival," FyreFraud said. "You don't launch with that. You don't do that with a first festival. The whole thing was just a complete disaster." 
FyreFraud added, "If they'd properly raised funds, and permits, it's at minimum an 18-month job. You're talking about building a small city on a deserted island. That's water power, facilities, medical, transportation." 
McFarland said there will be make-up dates in May 2018 and the festival will be free for those who signed up this year. The festival will also donate $1.50 to the Bahamian Red Cross for each ticket sold.
In the end, McFarland admitted that organizers were "a little naive" in thinking they could pull it off themselves and vowed to start earlier next year. 
"The reality is, we weren't experienced enough to keep up," he said.