Climate March 2017: These 21 photos show that climate change isn't a fringe issue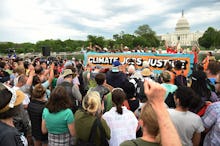 Gathered on a very hot April Saturday, people in Washington, D.C., are marching through the streets to show that they believe in working toward a solution for climate change. 
Only one week after the like-minded Science March, the Climate March brought people together in hopes of sending a message to those in power in Washington — there's only one earth, so we better take care of it. 
Washington, D.C. 
While Washington, D.C.'s Climate March was the main draw, several other cities around the nation held their own versions of the march. 
Chicago 
Augusta, Maine
Montpelier, Vermont 
Tucson, Arizona 
Boston 
Denver
Seattle 
The Climate March happens to fall on President Donald Trump's 100th day in office. But, you probably won't find Trump among the people in the streets. The president has denied climate change and called it a "Chinese hoax" several times. For those thinking the president's advisers may help, that's not the case. Trump's cabinet is stacked with people who deny the science behind climate change, as well.