Climate March 2017: These are the best signs from today's nationwide climate action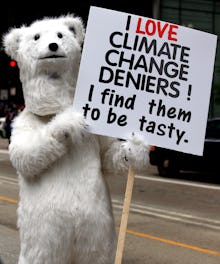 Tens of thousands of activists marched in Washington, D.C., and across the country at the People's Climate March on Saturday, protesting President Donald Trump and his administration's refusal to acknowledge the scientific consensus on climate change or enact policies to prevent catastrophic global warming.
Temperatures in Washington were projected to rise as high as 93 degrees Fahrenheit, breaking the previous April 29 record of 91 degrees set in 1974 —  an ominous backdrop for a protest against rising global temperatures. Trump himself has flouted climate research and repeatedly referred to global warming as a Chinese hoax, and before becoming president was fond of suggesting the occasional bout of cold weather disproves the entire notion of a warming planet.
Here's some the best signs, costumes and banners from the marches in Washington, New York, Chicago and elsewhere.