Meet the next generation of radical climate activists — it's their future at stake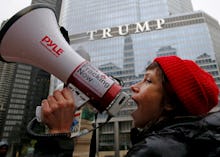 WASHINGTON — Every protester against President Donald Trump has had their moment of radicalization, whether it was the Women's March on Washington — and elsewhere — or the airport protests against the Trump's "Muslim ban." For many of the youngest members of the latest resistance movement, however, that moment came at the People's Climate March, held on the 100th day of Trump's presidency.
At the People's Climate March on Saturday, tens of thousands of climate activists from across the country surrounded the White House to demand action to mitigate the climate-change crisis. But this march had a noticeably younger make-up, with college- and high school-age activists comprising many of the march's largest contingents.
And, for almost all the young participants and organizers Mic spoke to, it was their first time demonstrating.
"Climate change is the issue of our time, and people are going to be affected by it who don't have a vote right now," Claire Mohney, a first-time demonstrator who studies environmental biology at DePauw University in Indiana, told Mic during the march.
Part of this can be attributed to the rising tide of awareness from generation by generation. A survey from the Pew Research Center showed that younger millennials are the first generation where a majority believe climate change is largely man-made. They seem to understand the interplay between climate change and public health, conflict in war-torn regions and the already impending displacement of millions of refugees.
They also understand they've been let down by the meager gains of the 20th century's climate movement. Steve Lethbridge arrived at the march with roughly 200 students from across Virginia, which is facing down multiple, potentially dangerous pipeline construction projects as well as the dumping of coal ash into its rivers. Lethbridge said the coordinators of his contingent were largely self-organized 22- and 23-year-olds, who built a coalition across almost every college in Virginia and took on leadership roles without the guiding hands of more experienced demonstrators.
"The older generations have brushed it off completely as an issue, and we know that those of us under 30, it'll affect us as [we] get older and it's going to affect our kids," Lethbridge told Mic. "Someone has to do it, and it's obvious that it's not going to come from the older generation."
These marchers aren't the first of their generation to take up the mantle. The Standing Rock  sovereignty struggle owes much of its sustained energy to its youngest champions in the Sioux community. The task ahead of the new climate movement is enormous, but at least it's come to terms with what has to be done.
"They understand better than anyone that if they don't rise up and stop the harms, their future isn't going to be anything close to what I've enjoyed in my lifetime," indigenous organizer Pennie Opal Plant told Mic just before the march kicked off.