The world's most famous Bush impersonator showed up at Sam Bee's big Washington event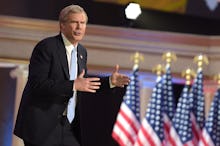 WASHINGTON — This was not the White House Correspondents' Dinner. Literally. That was even the name comedy TV host Samantha Bee gave to her counter-programming for the official dinner: Not The White House Correspondents' Dinner.
President Donald Trump wasn't there, of course — he wasn't at the official event, either — but there was a presidential podium, backed by flags. It stood empty throughout the show, a reference to cable news channels showing Trump's empty podium during the campaign season even as Hillary Clinton was giving substantive policy speeches. Finally, the crowd was treated to a special appearance by one of the country's best known presidential impersonations, even if it was from a bygone era.
"How do you like me now?" said the former President George W. Bush impersonator, better known as comedian and former Saturday Night Live star Will Ferrell, basking in his newfound acceptance among liberals nostalgic for a more conventional GOP leader.
"For the longest time, I was considered the worst president of all time," Ferrell declared in his spot-on Bush impression. "That has changed. And it only took 100 days."
The audience roared with knowing laughter — something that continued throughout the event. 
Bee faced a packed, friendly house at DAR Constitution Hall in Washington, D.C., for her event, which was filmed for an episode of her Full Frontal show. The crowd of 2,500 attendees, which Bee said off camera was the largest audience she'd ever performed in front of, enjoyed equal measures of aplomb and profanity. 
To the assembled members of the media, many of whom had faced some measure of abuse from the leader of the free world, Bee had a toast: "Tonight, the president screams at a pen that Katy Tur is not in!" — referring to Trump's constant taunts of the NBC News reporter, including at a Miami rally where he singled her out in the press pen.
Ferrell's set, performed as Bush, mocked Trump's inability to wear a necktie correctly, his allegedly thin skin and his complaints that being president is really, really difficult. The set ended with a take on Bush's portraiture skills, as displayed in his new book "Portraits of Courage," applied to a "Portrait of No Courage" of Trump. Ferrell, as Bush, joked that he couldn't finish the painting because he'd exhausted his supply of orange paint.
The event, which raised nearly $200,000 for the Committee to Protect Journalists before it even aired, was a combination of pre-taped videos, several of which included Bee doing characters — including Madonna, a take on Carol Burnett and a saltier version of comedian Paula Poundstone — roasting previous presidents at prior White House Correspondents' Dinners and live sets by Bee that ran like segments of her show. 
Bee's finale was a combination video-and-live bit that began with Bee running into a nervous George Takei in an alley, a scene plucked straight out of a noir science fiction film. Takei hands Bee a package and says, "Take this, it's a way out" — only to be arrested around the corner. It is, it turns out, an old-school film reel, which Bee brings home and manages to find equipment to watch. On it, she sees Hillary Clinton winning the election, being inaugurated, hanging out with German Chancellor Angela Merkel and addressing a joint session of Congress. Bee tears up as she watches the reel.
Next in the alternate history, Bee sees herself at a podium, roasting a President Hillary Clinton at the 2017 White House Correspondents' Dinner.
Back in the live part of the bit, Bee began her alternative-timeline dinner speech, exclaiming, "Thank you, Madam President." Then she ran down Clinton's first 100 days in the Oval Office, including the New England Patriots losing the Superbowl and Bill O'Reilly's self-enforced exile. In the alternative timeline, Clinton had already pulled off myriad policy accomplishments which Bee said "bore me shitless." 
"Her cabinet is 51% women," Bee said of Clinton, "which provoked the first protest you can see from space: The Men's March."
After the alt-timeline speech ended, the video resumed, showing a teary-eyed Bee coping with the reality that might've been.