Trump Invites Duterte to White House: What to know about the Philippine president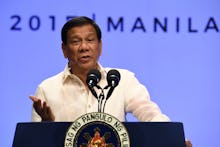 On Saturday, President Donald Trump raised eyebrows when he invited Philippine President Rodrigo Duterte to the White House during a "very friendly" phone conversation.
Trump's hospitality toward Duterte was considered by many to be a cause for concern, given the Philippine leader's continued disregard for human rights — a fact that Duterte has even been quick to acknowledge himself.
"I do not care what the human rights guys say," Duterte said in October, according to the Independent, citing an Al Jazeera video interview. "I have a duty to preserve the [next] generation. If it involves human rights, I don't give a shit."
Here's what to know about the Asian leader's history when it comes to persecuting his own constituents.
War on Drugs
Since taking office in June, Duterte's presidency has been marked by his continued war against the country's drug offenders. 
Under Duterte's leadership, the country's law enforcement has had free license to kill any suspected offenders. Between July 1 and Nov. 25, Humans Rights Watch reported, police statistics reveal that 1,959 suspected "drug pushers users" and 3,658 "unknown vigilantes" were killed by police — compared to just 68 killings between January and June of 2016.
The numbers have only increased since November. More than 7,000 people have died as of February since Duterte took over, Der Spiegel reported.
Duterte's continued willingness to kill his own citizens has sparked international concern. In a December letter, U.S. Senators Marco Rubio, Edward J. Markey and Christopher A. Coons condemned the Philippine government's actions and urged the State Department to investigate whether these extrajudicial killings were taking place using U.S. foreign aid funds.
The Philippine president's war on drugs, the senators wrote, "appears to be a campaign of mass atrocities thinly disguised as a response to a public health emergency."
Duterte has refused to back down, and even threatened to invoke martial law when his policies were challenged by Maria Lourdes Sereno, the chief justice of the Supreme Court of the Philippines.
"Hitler massacred three million Jews, now, there is three million drug addicts," Duterte said in September, incorrectly citing the actual number of Holocaust deaths. "I'd be happy to slaughter them."
Davao City killings
Prior to assuming the presidency, Duterte took a similarly cavalier approach to his constituents' deaths as mayor of Davao City in the Philippines. He was suspected to support targeted "death squad" killings during his two-decade term, the Humans Rights Watch reported in 2009, which targeted alleged drug dealers, petty criminals and street children, among others.
"If you are doing an illegal activity in my city, if you are a criminal or part of a syndicate that preys on the innocent people of the city, for as long as I am the mayor, you are a legitimate target of assassination," Duterte said in February 2009, as quoted by the HRW.
The then-mayor even apparently got in on the action himself. In December, the New York Times reported, Duterte openly admitted to killing three people during his term as mayor.
"I killed about three of them because there were three of them," Duterte said during a press conference, as quoted by the Times. "I don't really know how many bullets from my gun went inside their bodies."
"It happened. I cannot lie about it," he continued.
Duterte has drawn the criticism of the United Nations. The organization has condemned the president's drug killings, and in December, U.N. High Commissioner for Human Rights Zeid Ra'ad al-Hussein called on Philippine authorities to investigate Duterte's alleged murders.
But Duterte is not willing to let the governing body have authority over his presidency. The president threatened to take a certain action against the U.N. should he end up in the U.S. — which, if he follows up on Trump's invitation, could be soon.
"You go and file a complaint in the United Nations," Duterte said in December, as quoted by the Times. "I will burn down the United Nations if you want. I will burn it down if I go to America."