Trump 'Face the Nation' Interview: "I think I've done a very good job" of being president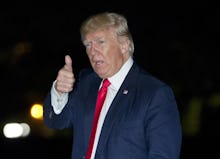 On Sunday morning, President Donald Trump took to CBS's Face the Nation to discuss his first 100 days in office.
The interview came just a few days after Reuters reported that Trump thought being president "would be easier." Journalist John Dickerson was quick to follow up on this sentiment, asking Trump if he found the presidency tougher now than he had anticipated.
"I love doing it. I'm, you know, thoroughly enjoying it," Trump said about the presidency. "It's always a challenge, like life itself is a challenge. But it's something I really love and I think I've done a very good job of it."
"It's a tough job, but I've had a lot of tough jobs," the president said about his stint so far. "I've had things that were tougher."
When asked what he had learned so far as president, Trump was quick to say "how dishonest the media is" — though, when Dickerson pressed further, he also mentioned the challenges of Washington bureaucracy. 
"I think things generally tend to go a little bit slower than you'd like them to go," Trump said. "It's a very, very bureaucratic system."
Despite these challenges, Trump seems happy with his presidential role — even as polls reveal his constituents don't feel the same way.