These RuPaul's Drag Con attendees could be the 'Drag Race' contestants of the future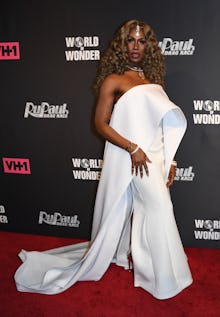 LOS ANGELES — As she headed to her panel at RuPaul's Drag Con, RuPaul's Drag Race season 9 queen Shea Couleé heard screams from her fans. "Love you, Shea!" and "Oh my God, it's Shea!" rang out in the Los Angeles Convention Center. She smiled, responded with a "thank you" and a "hey girl" to a few of them. If you didn't know better, you'd say she's done this for years.
But in fact, the last time Shea was at Drag Con, it was as one of the hundred attendees milling about on the convention floor. The Chicago queen had yet to be cast on RuPaul's Drag Race, and was there as a fan of the series and of the form of drag. Within a year, she's become one of the brightest stars of the convention.
For the girls who haven't yet been under the light of RuPaul's halo on Drag Race, Drag Con represents a chance to be seen — and, potentially, to steal some of that shine for themselves.
Drag Con draws people of all ages, backgrounds, shapes and sizes, many of whom are looking for their way into the Drag Race world. One such queen is Melissa Rich Brown, a 20-year veteran, pageant queen and trans woman who has been at every Drag Con. Her current and ongoing audition for Drag Race season 10 is her first audition for the show ever, and is inspired by Peppermint's journey this season.
"A lot of people have different thoughts about 'what is drag,'" Melissa told Mic on the convention floor. "I think America should see that I can be a woman during the day ... and just to show America a different side of the entertainment business [and] of female impersonation."
For Melissa, the benefits of a convention like this are not just in making connections and contacts — though she says non-Race queens can "piggyback off of what the other girls are doing" — but in learning the value of self-promotion. "You gotta learn how to market yourself," she said. "You gotta be a businesswoman."
A younger queen attending Drag Con for her second year is Anita Kiss. She's been doing drag for four years, loves makeup and can't wait to audition for Drag Race. She just has to turn of age first — Anita is only 14.
"I'm still really young," Anita said while in line to meet one of the queens. "But I've [found] a lot of contacts at Drag Con." Should she finally take that leap (when asked what's stopped her from doing it, she deadpanned, "turning 18"), she'll be in a better position because of her time at Drag Con.
Anita may be a few years from trying to join the Race, but one queen yet to be on the show got to perform on a particularly influential platform Saturday night. After season eight queen Kim Chi had to bow out of the Battle on the Runway event, New York queen Aquaria took her place. Even for a queen who has a fanbase, to be exposed to Drag Race fans in such a way is a major boon. It's almost a stepping stone; in fact, host Shangela even mentioned her desire to see Aquaria on Drag Race while introducing her.
Of course, Drag Race isn't the only way to make it as a drag superstar. Vicky Vox, for instance, has been working for years without ever being on the reality show. Granted, she used to perform in DWV, a group with Drag Race stars Detox and Willam, but still: It's not impossible.
That said, one of the most persistent criticisms of the show is that it makes drag all about the stars, not about the local queens. Drag Race has brought this art form out of the clubs and onto TV screens, where nearly a million people learn to love specific girls. It can be difficult to make a brand as a queen without this platform. It's little wonder girls would come to Drag Con hoping to take the next step up.
During her panel, WOW Presents How to Makeup Live, Shea demonstrated how to make up a lip on her drag daughter, Kenzie Couleé. The younger member of the family has been doing drag for a year and a half. This was her first Drag Con, and she spent it watching fans of Shea cheer for her from every corner. Perhaps, a couple of seasons down the line, Kenzie will be exactly where her drag mother is now.
Mic has ongoing RuPaul's Drag Race content. Follow our main RuPaul's Drag Race hub.