Here are 3 key takeaways from Donald Trump's 'Face the Nation' interview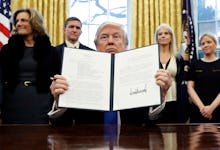 On Sunday, President Donald Trump sat down with Face the Nation host John Dickerson for a wide-ranging interview about the first 100 days of his presidency, North Korean missile tests, his health care agenda, and the various scandals and alleged conflicts of interest that have dogged his administration from day one.
In a 30-minute-long and sometimes rambling broadcast, the president offered a rosy, if tenuous, view of the progress he's made so far, insisting the media has misportrayed his record and at times contradicting his own party's narrative.
Here are the three biggest takeaways from the discussion.
1. Trump is still winging it on North Korea
The president refused to commit to a course of action on North Korea, saying he preferred to keep his options open and repeating his common campaign promise to not give away any possible future U.S. military operations. Trump also said he was currently relying on Chinese President Xi Jinping to pressure North Korean leader Kim Jong-un and would not elaborate on any further U.S. actions, military or otherwise.
"This was a small missile," Trump said, referring to a recent North Korean ballistic missile test. "This was not a big missile. This was not a nuclear test, which [Kim Jong-un] was expected to do three days ago. We'll see what happens."
When Dickerson asked him to explain his comment that a North Korean nuclear test would not make him "very happy," Trump responded, "I would not be happy. If he does a nuclear test, I will not be happy. And I can tell you also, I don't believe that the president of China, who is a very respected man, will be happy either."
"It is a chess game," Trump continued. "I just don't want people to know what my thinking is. So eventually, he will have a better delivery system. And if that happens, we can't allow it to happen."
Trump rhetorically asked if Kim was "sane" before adding "I have no idea." In keeping with his long-running record of complimentary statements on authoritarian leaders, Trump praised Kim's supposed ingenuity.
"I can tell you this, and a lot of people don't like when I say it, but he was a young man of 26 or 27 when he took over from his father, when his father died," Trump said. "He's dealing with obviously very tough people, in particular the generals and others. And at a very young age, he was able to assume power. A lot of people, I'm sure, tried to take that power away, whether it was his uncle or anybody else. And he was able to do it. So obviously, he's a pretty smart cookie."
Republicans still don't have a plan to repeal and replace Obamacare
Trump insisted ongoing negotiations in Congress to develop a compromise plan to repeal and replace the Affordable Care Act had reached an agreement to guarantee coverage of pre-existing conditions, weeks after the administration's first proposal fell apart in the wake of a Congressional Budget Office report showing 24 million Americans would lose insurance by 2026.
But the president also seemed to contradict known details about the plan actually being negotiated.
"Pre-existing conditions are in the bill," Trump said. "And I just watched another network than yours, and they were saying, 'Pre-existing is not covered.' Pre-existing conditions are in the bill. And I mandate it. I said, 'Has to be.'"
"We have — we've set up a pool for the pre-existing conditions so that the premiums can be allowed to fall," he added. "... I'll tell you who doesn't cover pre-existing conditions. Obamacare. You know why? It's dead."
Trump seemed to briefly waiver when Dickerson pressed him on the issue, at one point saying, "Look, because if you hurt your knee, honestly, I'd rather have the federal government focused on North Korea, focused on other things, than your knee, okay? Or than your back, as important as your back is."
The president later concluded, "We actually have a clause that guarantees."
As CNN pointed out, the plan currently being negotiated in Congress does require insurers to cover pre-existing conditions, but it also allows insurers to charge customers significantly higher premiums if they have even brief lapses in coverages. One AARP analysis determined premiums for some could rise to $25,700 a year, completely unaffordable for most Americans.
Trump also contradicted the compromise plan's agreement to allow states to waive rules protecting people with pre-existing conditions, which was crucial in securing support from the arch-conservative House Freedom Caucus, saying the matter would not be left up to the states.
So, either Trump is mildly confused about the status of the negotiations, or those negotiations are still fluid enough that nothing firm has been reached. In other words, a plan to repeal and replace the ACA has not yet reached consensus.
Trump won't release his tax returns — and won't admit Russia attempted to interfere in the election
Trump returned to his now-familiar explanation that he is under continual IRS audit — a claim for which there is still no material proof — and said he wouldn't reach a determination on releasing his tax returns until after said audit was completed.
"I'm under audit," Trump said. "Right now, I'm under audit. After the audit is complete. It's a routine audit, but I have a very big tax return. You've seen the pictures. My tax return is probably higher than that from the floor. When you look at other people's tax return, even other wealthy people, their tax return is this big. My tax return is this high."
"It could happen soon," he said after Dickerson inquired about a possible timeline for audit completion. "I don't know. I mean, I think it's pretty routine, to be honest with you. But then I'll make a decision."
Later, when asked about the intelligence community's consensus that Russian operatives hacked the computer systems of U.S. political parties before the election and released information embarrassing to the Democrats, Trump was firm that continual allegations his campaign was somehow involved were false. But he refused to concede Russia was involved, either.
"... Knowing something about hacking, if you don't catch a hacker, okay, in the act, it's very hard to say who did the hacking," Trump said. "With that being said, I'll go along with Russia. Could've been China, could've been a lot of different groups."
"I can tell you one thing," Trump continued. "Had nothing to do with us. Had nothing to do with this, and everyone knows it."