RuPaul took the stage during DragCon to talk about loving yourself and the 2016 election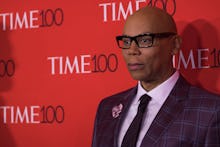 LOS ANGELES — Leave it to Mama RuPaul herself, who ends every episode of RuPaul's Drag Race with a rallying cry of "If you can't love yourself, how in the hell you gonna love somebody else?" to end DragCon 2017 with a keynote about self-love.
Dressed in a sharp teal suit and speaking from his personal experiences, Ru took an hour at the end of Sunday's DragCon programming to teach the children a thing or two about love. Simply saying "love yourself" is only half the message; Ru chose to focus on exactly how that happens and the roadblocks that prevent you from getting there. And because, of course, this DragCon had a twinge of Trump rebuke running through its veins, Ru took a moment to talk about how the very issue of self-loathing led to the election result.
Through what Ru called humorously (but not jokingly) "years and years of therapy," the drag titan was able to isolate a singular event in his life that he latched onto. He stylized himself as a victim because, as a child, when his father was to pick him and his sister up, he never showed up. He was a gambler and a drinker, but his actions affected Ru deeply.
For much of Ru's life, he allowed himself to "recreate that victimhood" — especially in relationships. Until he met his now-husband George, Ru said he was "attracted to men who I had to chase." George, on the other hand, chased him. When he finally let George in 23 years ago, his life turned for the better.
It was remarkably personal storytelling from someone who has been notoriously private in the past, even as he watches the queens of RuPaul's Drag Race open up to him multiple times a season. Hearing this story, his emotional response to something like season 5 competitor Roxxxy Andrews' breakdown about being abandoned at a bus stop by her mother feels all the more resonant.
How does the election figure into this? Simply put, the desire to construct a victimhood narrative led voters to buy into what Donald Trump, who Ru referred to not by name but as "a used-car salesman," was telling them.
"[There are] people who don't want the world to move forward," Ru said. "They took on this used-car salesman who told them they could turn back the hands of time." Then, a triumphant declaration: "We ain't going back, baby."
The keynote was a rousing reminder of Ru's educational side, and it won't be long until Ru once again addresses her children. At the very start of the keynote, RuPaul announced a second DragCon this fall in New York City September 30 and August 1. (Tickets go on sale May 12.)
Over one weekend, 40,000 fans crammed into the Los Angeles Convention Center to see the empire RuPaul created. Listening to him speak is a reason to give thanks for his ability to get over his struggles — to overcome his "saboteur," as he likes to say. Drag Race and DragCon exist because Ru beat his demons. For those in the audience, what he built should serve as inspiration: Imagine what any of us can do with the same power?
Mic has ongoing RuPaul's Drag Race content. Follow our main RuPaul's Drag Race hub.