Ueli Steck, famed Swiss mountaineer, dies in accident near Mount Everest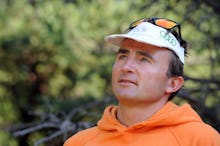 Ueli Steck, the famous Swiss climber renowned for his quick ascents and numerous mountaineering awards, died at the age of 40 while acclimatizing near the base of Mount Nuptse near Mount Everest, BBC reported Sunday.
Steck was preparing for his attempt to climb Mount Everest without oxygen and had recently posted on Facebook about his belief that active acclimatization was the best way to prepare for such climbs. His death was the result of a slip, Nepal Mountaineering Association head Ang Tsering told Agence France-Presse.
"He skidded off about 1,000 meters from [Mount Nuptse] camp two early morning on Sunday," Dinesh Bhattarai, director general at the Department of Tourism, said. "Other climbers ascending Everest saw him and asked for his rescue."
According to AFP, Steck's partner, Tenji Sherpa, was recovering from severe frostbite at a lower camp at the time of Steck's accident.
"It is very sad news, he is a very experienced climber," record-setting Nepali climber Mingma Sherpa told the news agency. "Things can be so unpredictable in the mountains and it can be challenging even for the most seasoned climbers."
Steck was a two-time recipient of the Piolet D'or and was known for his record-setting climb of the Bernese Alps' Eiger mountain in just three hours, in addition to an alleged 2013 fight with sherpa guides on Mount Everest at 23,000 feet. Deaths on Mount Everest have become a major problem in recent years, with overcrowding named as one of the primary causes.