San Diego pool party shooting leaves 1 dead and 6 injured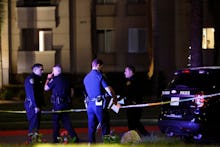 A gunman who began firing rounds at a San Diego pool party Sunday night killed one person and injured six others before being fatally shot by law enforcement, Police Chief Shelley Zimmerman told CNN.
The victims, some of whom were in critical condition Sunday night, had been partying at the La Jolla Crossroads apartments near the University of California San Diego campus when the gunman, 49-year-old Peter Selis, began shooting around 6 p.m.
Although the victims' names have yet to be released, they were identified as four black women, two black men and a Hispanic man. Police said that it's unclear whether Selis, a white man, knew any of the victims, or if he was driven by a specific motivation.
"This was a truly horrific and disturbing act. We pray for the victims and thank our first responders. Our city rejects this senseless violence," San Diego Mayor Kevin Faulconer said at a news conference, according to CNN.
Police told CNN that they believe some of the people at the pool had been celebrating a birthday when Selis opened fire, and that it appears that Selis and at least one of the victims lived in the apartment complex where the shooting took place.
According to CNN, Selis pointed his weapon at three officers who attempted to confront him on the ground, prompting them to open fire.
Susan Berry, a resident at the apartment complex who did not witness the shooting, said that the violence came as a surprise in what she described as an "affluent neighborhood."
"People are shocked," she told CNN.