3 takeaways from the government funding deal: Democrats emerge as the big winners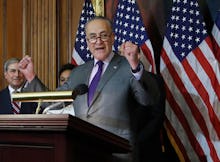 Congress reached a deal late Sunday night to fund the government through September, averting what would have been an embarrassing government shutdown roughly 100 days into the Trump administration.
The bipartisan deal has yet to receive a vote, but it's expected to pass Congress this week, before funding runs out Friday.
And while President Donald Trump can claim victory that the government's lights will stay on and crucial federal programs will stay funded, it's Democrats who really came out the winners in the deal. Almost none of Trump's major budget cuts were included in the deal. Some programs Trump called to be cut received even more funding in the deal than they previously had.
It's a sign both that Republicans are not afraid to defy Trump, and that the GOP still needs Democrats to accomplish basic tasks like funding the government, despite the fact that the GOP holds majorities in both the House and Senate. 
Here are three key takeaways.
Planned Parenthood gets funding
Republicans have promised for years that, if they had control of the government, they'd defund Planned Parenthood. Yet despite the fact they have unified control in Washington, D.C., they were not able to make good on that promise, as funding Planned Parenthood is included in the government funding deal.
No money for Trump's wall
Another casualty of the funding bill is Trump's wall between the U.S.-Mexico border. Building a wall between the United States and Mexico was one of Trump's biggest campaign promises. Days after taking office, he signed an executive order calling for the wall's "immediate construction."
Congress, however, did not appropriate the tens of billions of dollars needed to construct the physical border wall — delivering yet another blow to Trump.
Major spending cuts Trump asked for not included
Despite Trump's budget calling for major cuts to domestic spending, almost none of those cuts were included.
In fact, the National Institutes of Health, whose budget Trump wanted to cut by $5.8 billion, actually received more funding in the deal.
Similarly, the deep cuts Trump wanted for the Environmental Protection Agency were also not included. The EPA saw a 1% spending cut, according to CBS News, far less than the 31% cut Trump asked for in his budget.