People are cancelling their 'New York Times' subscriptions over a climate change column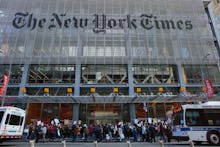 Newly hired New York Times columnist Bret Stephens' controversial first column is going over like a lead balloon with the paper's progressive readers — some of whom are furiously pledging to unsubscribe altogether.
In the column, Stephens cautions readers that even though the data pointed to Hillary Clinton winning the 2016 presidential election, that's not what ended up happening. "There's a lesson here" about climate change, he says.
"We live in a world in which data convey authority. But authority has a way of descending to certitude, and certitude begets hubris," Stephens wrote. "Claiming total certainty about the science traduces the spirit of science and creates openings for doubt whenever a climate claim proves wrong."
Stephens' skepticism incensed scores of readers, many of whom claimed on Twitter to be in the process of cancelling their subscriptions.
Stefan Rahmstorf, a climatologist and professor of physics at Potsdam University in Germany, posted a lengthy explanation for why he could no longer continue to support the Times.
"The Times has denounced the critics of its decision as 'left-leaning.' This is an insult to me and was the final straw to cancel my subscription, Rahmstorf wrote. "There is no left-leaning or right-leaning climate science, just as there is no Republican or Democrat theory of gravity."
But while many were quick to express outrage, Jessica Huseman — a senior reporting fellow at ProPublica — wrote in a Twitter thread that users pulling their subscriptions only takes money away from "some of the best climate science reporters in the country" in the employ of the Times
Dean Baquet, the executive editor of the Times, said Sunday on CNN's Reliable Sources that the paper had hired Stephens for his politics as a direct result of the polarizing 2016 presidential election.
"Didn't we learn from this past election that our goal should be to understand different views?" Baquet said.
In an interview with CNN, Stephens, for his part, suggested that while he is "by no means an expert in climate science," he does have "reasonably good credentials in writing and reading." 
"Clearly some of my critics need remedial education in these basic subjects," he said.